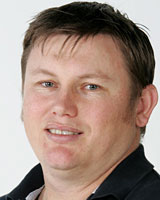 As the confused man said: 'Give me ambiguity, or give me something else.'
This same man must have been dispensing advice to New Zealand Cricket chiefs over the Indian Cricket League. Chief executive Justin Vaughan capped a challenging month by saying NZC would do their damnedest to extract Shane Bond from his mega-bucks deal with the rebel ICL by tying him do a less lucrative deal with another circus act, the Indian Premier League.
This after they had told Bond he could go to the ICL with, if not their best wishes, at least their understanding. He was told it would not affect future selection for the Black Caps, a situation Lalat Modi, the boss of cricket in India, has deemed unacceptable.
Modi is pushing IPL on the basis it is sanctioned by his board, which appears to be the only point of difference with the ICL as neither, contrary to popular understanding, has yet been approved by Malcolm Speed and the International Cricket Council, supposedly the highest authority in the land.
Don't tell that to the Board of Cricket Control India, though.
For all intents and purposes, they are playing puppeteer while NZC jiggles.
This, apparently, is the brave new world of New Zealand Cricket - where we become a subsidiary of the BCCI. That chiselling sound is the engravers at NZC's offices, changing the brass-plate from New Zealand Cricket to Board of Cricket Control India, New Zealand Division.
Such has been NZC's reaction to Mumbai's diktats it seems we've sold our sovereignty down the Ganges; bent over backwards to appease a country that not so long ago turned a virtual blind eye to the bookmakers corrupting their cricketers, criminals who posed a far more serious threat than a cashed-up broadcaster that wants to throw silly money at cricket.
Something doesn't ring true here.
Which is more unpalatable? Players nearing the end of their careers looking for a quick buck in a frivolous competition that most likely won't exist in five years, or the NZC whoring their best players out to the IPL, an act which is far more potentially damaging in terms of the Future Tours Programme (FTP)?
It's in the best interests of Modi and his board for New Zealand's players to participate. But hang on, isn't NZC's job to act in the best interests of New Zealand cricket? How does threatening draconian punishment against one of its most marketable assets (forget the rest who are either washed up or at least on the final spin cycle) come under that guise?
The only feasible explanation is that Vaughan wants to protect the relationship with India. But the FTP ensures they come here. The $50 million five-year deal with Sony is signed and sealed. If Modi throws a wobbly and refuses to let India tour here under ICC rules, the BCCI has to compensate NZC for any loss of revenue.
So why are NZC asking how high when Modi asks them to jump?
From all accounts, Vaughan is a smart, smart man and there are plenty willing to swallow his message without stopping to taste the bait.
Me? I'm still a little confused - but probably not half as much as Bond.
By Dylan Cleaver

Email

Dylan