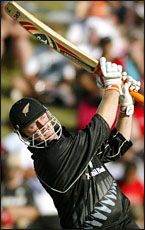 New Zealand all-rounder Scott Styris is set to infuriate traditionalists for the second time in a month after declaring footwork an over-rated art.
Having already shocked purists with his "no nets" practice philosophy, Styris yesterday courted more controversy after drawing a connection between his impressive batting form and this year's decision to employ less-pronounced footwork.
The 30-year-old right-hander made a century in New Zealand's record-breaking chase against Australia at Christchurch; was one of his team's most effective batsmen in South Africa, and is hoping to continue his momentum in the opening one-dayer against Sri Lanka on Saturday.
Styris said yesterday that the improvement in his form came after he developed a couple of flaws in his technique, resulting in a chronic inability to hit through the offside, on either the front or back foot.
The remedy was suggested by Middlesex professional Ed Smith and coach John Emburey, who both urged Styris to forget about his footwork and to concentrate on developing a more balanced position at the point of impact.
"I've really subscribed to the no-footwork theory," he said. "I know that sounds strange but it's not as bad as a lot of purists would imagine. It just means that I'm trying to get myself into a position where I'm hitting from a stable base.
"I feel that most of the best players around the world have limited footwork but are very strongly balanced when they strike the ball; it's quite a noticeable trend."
With that in mind, Styris opted to take a leaf out of their book and reduce, rather than exaggerate his foot movement, in order to give himself a more effective strike base.
The moved proved a success from the start, not only opening up the offside for Styris but also adding extra shot options around the wicket, something he attributes directly to the ploy of making balance a bigger priority than foot movement.
"The concept of foot movement can be a bit misunderstood," he explained. "It doesn't quite happen like the McC coaching manual of 50 years ago. You just can't do that any more.
"Times have changed, pitches are flatter, and the best players have sacrificed a little bit of unnecessary foot movement in order to gain more power.
"It took quite a while for me to get the hang of it, and before that, even longer to understand the problem and the solution.
"But then it started happening for me and I haven't looked back, really."
By the same taken, Styris has warned young batsmen to learn the fundamentals of foot movement first, as it was a important factor at domestic and club level, and essential on New Zealand's more bowler friendly domestic pitches.
"I couldn't offer the same advice to young up-and-coming batsmen because the critical ingredient in the theory is the quality of the pitch surface," he said.
"At international level it's usually pretty flat and you can take some latitude, but at domestic and district level the wickets offer a bit more and there's a greater need to use your feet accurately."
New Zealand have received an early setback during their preparations for Saturday's one-dayer.
Auckland all-rounder Andre Adams broke a bone in his right hand yesterday while fielding and has been ruled out of the first game; probably the series.
It was a cruel blow for Adams, who had only just returned from a finger injury after missing the Chappell-Hadlee Series.
The all-rounder had been looking forward to re-launching his international career this week, particularly after an impressive showing in South Africa.
He has been replaced by Wellington left-arm paceman James Franklin.

Scott Styris
* Age: 30
* ODIs: 108
* 100s/50s: 3/13
* HS: 141
* Ave: 29.00
* Strike Rate: 78.45
* Wickets: 103
* 4/5 wkt bags: 3/1
* Best: 6/25
* Ave: 30.65
* Eco: 4.65
By Richard Boock

Email

Richard