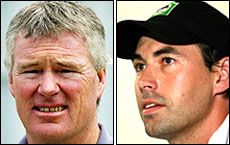 The news continues to go from bad to worse for the New Zealand team.
As if being beaten up by South Africa, the match referee, and the International Cricket Council's one-day rankings wasn't enough, the vanquished squad arrive home this morning to suggestions of a rift between management and players.
The accusation, levelled yesterday by Dominion cricket writer Jonathon Millmow, was that skipper Stephen Fleming and coach John Bracewell weren't speaking to each other at the start of the tour, apparently over the decision to drop all-rounder Chris Cairns.
The article claimed the impasse had occurred because several players were unhappy about Bracewell's relationship with co-selector Glenn Tuner, who was at the centre of a player revolt while coach in 1995-96.
Former New Zealand skipper Martin Crowe aired similar concerns after the Cairns axing, claiming the decision was always on the cards given Turner's well-documented frustrations with the champion all-rounder.
However, New Zealand Cricket refused to confirm or deny the suggestions of a rift when contacted yesterday, saying it wouldn't be possible to provide any comment until the players had arrived home and had been debriefed.
A spokesman for the organisation said he'd heard nothing of the issue during the tour, but that he'd be surprised if the usually gregarious Bracewell and straight-shooting Fleming were involved in a cold war.
New Zealand were beaten 4-nil in the five-match series, the only moment of relief coming at Durban last Saturday morning when heavy rain washed out the fourth match, and interrupted South Africa's 12-match winning streak.
But they were back in the groove in the final game at Centurion, winning by five wickets as New Zealand ended the series on a galling note, with two players attracting the interest of match referee Chris Broad.
Scott Styris was fined 25 per cent of his match fee for swearing at an umpire and Kyle Mills was cleared of dissent after having what appeared to be a running slanging match with South African skipper Graeme Smith.
To make matters worse, the latest ICC ODI rankings were released yesterday and show New Zealand have already started to free-fall, and could easily end up in seventh place by the end of the month.
At the moment the team are clinging on to sixth but will slide again if India win their final two games in Sri Lanka, and if Australia win the upcoming Chappell-Hadlee series.
By Richard Boock

Email

Richard