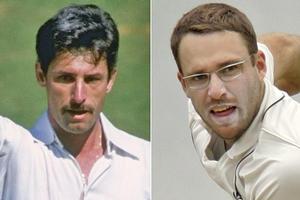 The subject this week is greatness.
1) First the death of Ted Kennedy. And now this.
This is the controversy too far, a place that even the Kennedys, with their family history of pain and glory, could not have envisaged being dragged to.
Somehow, they've got mixed up with our Hadlee family and a debate in New Zealand cricket. The Kennedy compound is said to be in shock.
For Joe, JFK, Bobby and Ted, read Walter, Paddles, Barry and Dayle. Or should that be Dayle and Barry?
This all occurred over the weekend when New Zealand Cricket board member and former test spin bowler Stephen Boock decided to trample on holy ground by suggesting that Daniel Vettori could one day surpass Richard Hadlee as our greatest cricketer.
"He [Vettori] will be one of our greatest cricketers, and possibly our greatest, by the time he's finished," Boock told the Sunday Star Times.
"He could end up with more wickets than Hadlee, but whether he can be called a better player than Hadlee is up to individuals.
"He will struggle to overcome the whole mana of the Hadlee thing - it's like the Kennedys."
I just about snapped over my crackle and pop at this point. NO. Vettori is not a better player than Hadlee and never will be. And no, he might not even be our second greatest player.
Yes, Vettori is already one of our great cricketers. But how could anyone jump to the next conclusion, that an average to good spinner by world standards could somehow be rated above one of the greatest quicks who ever donned a lovely Aran knit pullover?
Boock shared the New Zealand dressing room with Hadlee many years ago so you did wonder whether this was a case of familiarity having its wicked way.
Perhaps Boock still wakes up at night with visions of stampeding fast bowlers rampaging over his spin bowling career.
This Vettori v Hadlee bizzo had never occurred to me as a potential debate before the this website last week asked if Vettori was our greatest ever cricketer.
You can't be serious.
Both men are champion cricketers of the highest order but only one can win this argument, and by a long stretch.
They are both bowling all rounders, which means their bowling is what primarily determines their place in history. In other words, if Vettori keeps batting at the remarkable level that he is, it still won't make up for the bowling ground he loses to Hadlee in the greatness game. (Their batting averages are similar although Vettori is superior in this department you would think).
The impact of their bowling, and the statistics, are worlds apart.
Hadlee invited everyone from cricket nuts to the general public to dream. Vettori offers the game's aficionados a bit of hope while the general sports watcher has just about given up on test cricket.
Hadlee not only destroyed the best batting lineups in the world and won both tests and series for his country, he also invigorated, even redefined, the art of fast bowling at an average of around 22 runs per wicket.
Vettori is a clever practitioner whose record against the best countries ranges from very good to a touch disappointing at an average of 33 runs per wicket. His test statistics have also been given a major tweak upwards by low-cost hauls against hopeless Bangladesh and Zimbabwe - if Hadlee had played that lot the ICC would have had to introduce a mercy rule.
I can't believe we are even having this argument. It is very unfair on Vettori, whose achievements can only suffer by comparison.
Put it this way. Youngsters on the other side of the world wanted to bowl like Richard Hadlee. That was the impact he had. And it had nothing to do with any JFK conspiracies.
Anyway, these debates are at the heart of vibrant sport, and Boock's words did act as a lovely if bizarre reminder of the unique days of Hadlee.
Was there ever a more spine-tingling sight than that of Hadlee emerging from the tunnel on the first morning of a test, taking the red missile in hand, then setting off on that web-footed run towards a batsman who was nervously planted on a beautiful green pitch. Richard Hadlee absolutely loved a grassy knoll.
* * *
2) It's farewell time for Stacey Jones, again, and the Warriors have little option but to let us know it. This is definitely Plan B. Plan A would have them as a top eight side fighting for the title, as they should be.
Last weekend's performance against the Bulldogs was another dismal one. As I suggested the week before, the previous win over Canberra was only a mirage and should not be allowed to distract the Warriors from the major overhaul which is needed.
There must be deep problems in this club, and I believe owner Eric Watson is playing with fire by retaining Ivan Cleary as coach. With the best will in the world, I can't see Cleary turning this around.
I fear for the club because their game plans look in disarray.
I've got a feeling they will start next year as the bookies' favourite for the wooden spoon. On a positive note, this isn't all bad. This year's pre-season favourite was Penrith, who are ninth going into the final round.
The Warriors would be well served by a crushing loss to Melbourne because it will emphasise the need for drastic change.
While writing this, word has come through that a taskforce will be reviewing the club's football operations. Hopefully they are up to the task but it looks like a bit of a PR circus to me. Dean "Pup" Rice, a much respected bloke and a legendary Black Sox, is on the panel. Don Tricker reviewed the World Cup rugby disaster - softballers might be a minority sport but when it comes to fixing up the majority ones, they are all the rage. So-called independent reviews can be smoke screens, open to manipulation by the people who called for them. In order to work, for change to take place, they involve someone else rearranging a leopard's spots. The mana of those under review can also be undermined. That's not a great recipe. I'm not a fan - leaders should lead. Let's think positively, and hope that it works.
As for Jones, it goes without saying that he is a Kiwi great. On his day, he was a genius, but he would have achieved much more at a stable Aussie club with a winning culture.
Kiwi coach Steve Kearney suggested Jones might be the greatest Kiwi of them all. It would be hard to rate Jones above Mark Graham in my book. Graham also suffered at a poor club, standing out like a sore thumb with North Sydney. It was a rough and tough era, and the brave Graham ended up very sore indeed.
* * *
3) On the subject of comebacks, David Holwell is back. He is a great of Northland rugby, and his fighting qualities and experience will be a boost for the northerners. Holwell is on the bench against Southland in Invercargill tomorrow. He certainly isn't shirking the away trips.
* * *
4) I hope Roger Federer can win the US Open to claim his 16th Grand Slam tennis title, and move further away from the previous record holder Pete Sampras, who won 14. Sampras stood for all that is good in sport. His superb attitude towards Federer when he broke the record with that amazing win over Andy Roddick at Wimbledon was exemplary and inspiring. Sport desperately needs men like that. But in comparing their games, Sampras was limited next to the fluid artistry of Federer. The Swiss star is so good you want his career to go on forever. It is not often you see genuine, freakish, greatness unfold before your eyes and we are lucky right now. Federer, Tiger Woods, Usain Bolt - remarkable. Another Federer/Roddick final would be just the ticket.
* * *
5) And now for something completely different. Have you ever noticed how many American sports movies there are in the drama section of video rental shops. You spy one, read the story line, think you have seen it, then slowly realise that it is very similar to another half dozen you have seen. They are everywhere and with a common theme, that of good men (usually) overcoming the odds. I watched one this week, Glory Road, about the greatest - or "most important" - college basketball match of them all. It involved a breakthrough moment when Texas Western fielded an entire black lineup in the NCAA final and beat the hotly favoured University of Kentucky in 1966. These sports stories are terrific, but the movies sometimes less so. Complexities are never too complex although there are exceptions. Texas Western coach Dan Haskins was portrayed as a pioneer of de-segregation, his all-black championship final lineup a deliberate act. Haskins, who died last year, said he simply picked his best team and had never set out to change the world. He long described the high-publicity win over Kentucky as a major millstone around the neck for him, the university and the players. The movie did not allow any of this to ruin its plot. But with the internet as backup, these movies do reveal many truths and open a door to a fascinating past.