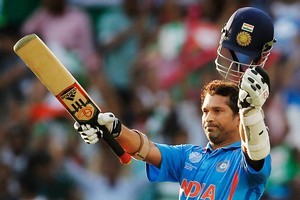 Sometime this week there's every chance a contentious decision will have a significant bearing on a World Cup quarter-final.
When Sachin Tendulkar got an inside edge to a ball from a West Indian bowler in the final group game at the tournament, he immediately turned and walked off.
Umpire Steve Davis was shaking his head, signalling not out.
Out for two in a key game to decide the two teams' finishing positions, and quarter-final opponents. Tendulkar is one shy of what will be his 100th international century. The temptation must have been great to try his luck.
The world's greatest batsman won considerable praise for his actions.
"It shows the measure of the man. He is a true gentleman," West Indian captain Darren Sammy said. "That was brilliant on the part of Sachin."
To which many of the world's leading batsmen, the stayputs who need to be dug out even after dismissed beyond any shadow of doubt, will say "bollocks".
It's nothing new, this to walk or not to walk question which pokes its head above cricket's parapet from time to time, usually when things get ugly.
A couple of days earlier, Mahela Jayawardene stood his ground after Nathan McCullum took a brilliant, two-fingered return catch in Sri Lanka's thumping win over New Zealand.
No one threw stones at Jayawardene, another highly respected and successful international batsmen, for testing the situation. But third official Amesh Saheba's wretched decision cost his reputation a flogging.
It may not have impacted on that particular game. But what if it was in a tight situation in one of the knockout games this week?
And what of Australia's beleaguered captain, Ricky Ponting, who fat-edged a cut into Pakistan wicketkeeper Kamran Akmal's gloves, then stood his ground after being given not out.
Setting aside the minor miracle that the hopeless gloveman Akmal actually caught it, what did Ponting's actions tell us?
He said he's always waited for the umpire's decision, even though he knew he's smashed it to the keeper.
You could argue he's been consistent and it's not just an Australian thing, by any stretch. To those of the don't walk school, the walkers tend to attract scorn, particularly if their actions ultimately cost a win.
The don't walk mob argue the good and bad decisions against them balance out. That old argument has lost water with the advent of new technology which highlights the incorrect calls and offers an on-the-spot solution.
You might think batsmen would now think twice about testing the moral boundaries of sitting tight when he knows he's fair dinkum out. It appears not.
They then run the risk of having their character reassessed. Where once spectators may have been none the wiser, now the big screen can make the chancer look just that, with their integrity tarnished.
More flareups occur on the field through that issue than any other. The Ponting catch led to a push and shove between Australian opener Brad Haddin and Pakistani players as the decision was referred upstairs.
It would be nice to think all batsmen would willingly walk; that fielders would uniformly signal when a catch wasn't held.
It would be nice if the world was at peace and petrol was free, too.
And as for Tendulkar, maybe he's saving his 100th 100 for the final in his backyard at Mumbai on April 2.
An early thin edge should that situation transpire would provide the ultimate test of a resolute character.