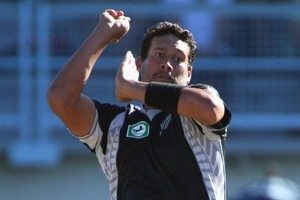 New Zealand face a daunting prospect at the World Cup tomorrow night as they prepare to play Sri Lanka without Daniel Vettori and Kyle Mills.
Vettori has been completing strengthening exercises this week, including running in the pool to get better functionality and movement in the strained posterior cruciate ligament of his right knee.
Mills strained his left thigh in the match against Canada and has since been resting.
Both are responding to treatment but it appears neither will front at Wankhede Stadium to negate the batting talent of Tillakaratne Dilshan, Upul Tharanga, Kumar Sangakkara and Mahela Jayawardene.
That leaves a vulnerable New Zealand attack on a batsman-friendly Mumbai wicket block.
Last night NZ Cricket announced that Auckland bowler Daryl Tuffey would join the team as cover for the injured duo.
When Mills went off after 2.4 overs, having taken two for two against Canada, the New Zealanders could not dismiss them.
Pace bowler Hamish Bennett is likely to return to the starting line-up but left-arm orthodox spinner Luke Woodcock's prospects remain uncertain. He was touted as an option against Canada but Kane Williamson got the nod to bolster the batting and played a better than run-a-ball innings in the late overs.
Bennett has been omitted for the last two matches but has taken six tournament wickets at an average of 19.33. He is striking every 20 balls.
"You get a bit sick of running out the drinks so I am keen to get out there again," he said. "Against Canada, losing Kyle early probably hit the guys mentally quite a bit, knowing they had to fill an extra 10 overs."
James Franklin acknowledges he did not do enough with the ball when required to bowl more of those overs against Canada.
He finished with none for 31 from four. He has played 16 ODIs in total against Sri Lanka but only one in almost four years.
"They have been a difficult side for New Zealand and we are playing them in conditions that will be familiar. Their top four have been prolific in one-day cricket recently. They are capable of putting up big numbers."
The Sri Lankans are unlikely to have seen much of Bennett, which could be advantageous to New Zealand. However, the top four will be difficult to intimidate. They have only been tested once at the cup to date - in the loss to Pakistan.
The match which should have been a gauge, against Australia, was washed out with Sri Lanka 146 for three in the 33rd over.
Dilshan, Tharanga and Jayawardene have all made centuries at the cup, albeit against weaker sides. For the former pair that included the record World Cup opening stand of 282 in their last match versus Zimbabwe.
No 3 Sangakkara has not scored a century but the skipper has been their most consistent batsman with no failures (92, 49, 27 not out, 73 not out, 11 not out) in five outings.
Despite his expected absence, Vettori is still likely to be able to offer some insight having played the Sri Lankans numerous times internationally or in the Indian Premier League. He has even played alongside Dilshan in his Northern Districts and Delhi sides.
If New Zealand beat Sri Lanka they will finish in the top two of group A, and set up a possible quarter-final against the West Indies, England or Bangladesh.