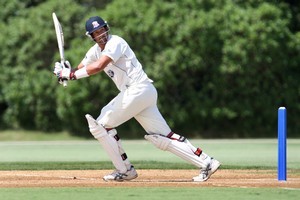 New Zealand have called up Auckland bowler Daryl Tuffey to their World Cup squad as cover for an injured Kyle Mills.
Kyle Mills and Daniel Vettori are not considered as capable of playing the final group match against Sri Lanka as they are both injured.
"With Kyle Mills suffering from a quad strain we felt it was important to cover our bases," selector Mark Greatbatch said
"The medical team are working hard to get Kyle fit and we are hopeful he will still play a big part in the World Cup so bringing in Daryl is a precaution.
"Getting Daryl over to India early gives him the best chance of adjusting to the different time zone and conditions should he become part of the official squad."
Tuffey, currently playing for Auckland in a Plunket Shield four-day match against Northern Districts, will join the team in Mumbai, India on Friday.
New Zealand, leading group A with eight points from four wins, have secured a place in the quarterfinals but will not know their opposition for the knockout phase until after their final group match against Sri Lanka on Friday at Mumbai and the match between Australia and Pakistan on Saturday.
- NZPA, NZ Herald staff