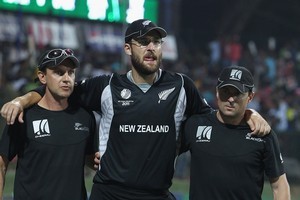 Rudyard Kipling's poem If states "if you can meet with Triumph and Disaster and treat those two impostors just the same".
That is the dilemma the New Zealand cricketers faced last night at Muttiah Muralitharan Stadium.
They celebrated the triumph of a Ross Taylor-led 110-run victory over Pakistan but they face the disaster of potentially losing skipper Daniel Vettori to a tournament-ending knee injury.

Vettori fell awkwardly attempting to catch a miscued lofted on-drive from Kamran Akmal off Tim Southee in the sixth over. He hobbled from the field but needed the support of two management staff to get to the pavilion. Vettori's leadership, left-arm spin and lower order batting are crucial components to the New Zealand cause but this could be his last act as national one-day skipper. The decision to select back-up spinner Luke Woodcock now looks prudent.
SCOREBOARD

Balanced against such unfortunate news was the New Zealand total of 302 for seven and Taylor's highest one-day knock of 131 off 124 balls on his 27th birthday.
It was Taylor's first one-day international century since October 2008. It was ironic he produced a captain-type knock when he could assume the role for the rest of the World Cup.
His innings was split into a battle back into form for the first 76 runs from 111 balls, followed by one of the most spectacular displays of clean hitting by any international cricketer. Taylor hit four fours and six sixes as part of his last 55 runs from 13 deliveries, obliterating some wayward bowling from Shoaib Akhtar and Abdul Razzaq. Akhtar's ninth over went for 28 runs; Razzaq's fourth went for 30.
In short it was surreal. To put it further into perspective, New Zealand made 92 runs from their last four overs and 139 from their last ten. Taylor's Indian Premier League bosses at the Rajasthan Royals will be rubbing their hands.

Vettori's decision to bat was brave given the dewy evening conditions with the ball, but it paid dividends and gives New Zealand hope at the tournament now they have momentum with three wins from four.

An advertising billboard overlooking the ground bore the slogan "superheroes sans tights" in reference to cricketers' performances at the tournament. Taylor was Clark Kent for the first 40 overs before turning into Superman. The only thing missing was his underpants over his trousers. In fact, given his penchant for clearing the rope, a better analogy might have been Batman.

Bizarrely his innings could have been over twice in the 14th over on his fifth and seventh balls. Wicketkeeper Akmal first let a ball go between him and Younis Khan at first slip. Then, two balls later, he dropped the simplest of edges. It was a moment that could have saved Pakistan from a torrid afternoon. It continues Akmal's dreadful record for botching catches at international level. The wag on the public address system even had the presence of mind to crank up Stevie Wonder's "happy birthday to ya" chorus for the crowd and no doubt Taylor's amusement.

It was an almost capacity crowd thanks to general admission tickets costing 30 Sri Lankan rupees (about 40 cents) and it being the first ODI in this region of Sri Lanka for over nine years. Fans became delirious as Taylor went about his late innings work, beating their thundersticks and joining together in lines of can-can dancing to show their appreciation.

Taylor's innings with the support of Martin Guptill (57) and a string of late order cameos - Scott Styris (28), Nathan McCullum (19) and Jacob Oram (25) - was significant. It gave New Zealand a presence at the tournament and showed they can match anyone on any given day, not just the likes of Kenya and Zimbabwe.
The only downside to the innings was that it masked Jamie How's continued search for form at international level. He batted at three because Jesse Ryder had suffered a stomach bug. He made four from 29 balls. James Franklin also struggled again batting at five. He has made 25 runs in his last four innings.

Coach John Wright's plan to be three down or less by the 35th over was not quite met - the team was 141 for four - but it underlines that such a simple concept has merit. It provided the platform which enabled Taylor to stand and swing. That in turn meant the New Zealand bowlers could attack at will.

Kyle Mills, Southee and Oram were nagging and accurate with the ball in the early stages, reducing Pakistan to 66 for six in the 18th over. They were clearly driven by the excitement of the Black Caps at last dictating terms against decent opposition. Mills even produced a jig as Khan's off stump cart-wheeled towards the slip cordon.
Another emphatic statement was Southee dismissing Misbah-ul-Haq for seven, thanks to a sharp Scott Styris catch at gully. It is the first time Misbah has been dismissed for less than 25 in eight ODI innings this year. Abdul Razzaq gave Pakistan some brief respite with 62 from 74 balls.

The execution of the Black Caps' plan cannot be underestimated looking ahead to Canada on Sunday and particularly Sri Lanka Friday week.

- Herald on Sunday