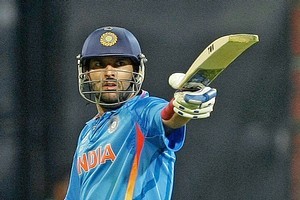 Cricket correspondent Andrew Alderson is working for nzherald.co.nz at the World Cup.
He is ranking the teams for us on a week-to-week basis, judging from what he hears and observes at the tournament.
This week little threatened the rankings in group A but Group B received a shake-up... even if some teams reverted to their same spots.
Cricket World Cup standings
Cricket World Cup fixtures
Group A
1. Australia (Last week: 1)
With the match against Sri Lanka washed out, the tournament lost one of its best potential spectacles with the two finalists from the Caribbean. This was Australia's only match since the convincing win over New Zealand so their chances have changed little, with others looking more vulnerable.
The decision to bring Mike Hussey back is crucial. They need him, especially against spin.
2. Pakistan (Last week: 2)
Does Pakistan have a tipping point? They narrowly escaped a defeat to Canada, thanks to another five-wicket bag from talismanic skipper Shahid Afridi (he has 14 wickets at 5.21 and strikes every 12 balls). New Zealand has a chance to test that theory tomorrow. Pakistan's selection consistency has been impressive: apart from Misbah-ul-Haq being rested for a game in Auckland, the same top eight batsmen have played their eight games this year.
3. Sri Lanka (Last week: 3)
Not looking the side of four years ago, despite a strong unit on paper. Have the advantage of home ground until the post-group but struggled against Australia, even if there was no result. The best thing for them this week was Lasith Malinga getting confidence with a hat-trick as part of six wickets for 38 runs against Kenya. Will struggle to make the semi-finals on current form.
4. New Zealand (Last week: 4)
They have produced two convincing ten-wicket easy-beat poundings and a sloppy display against Australia. Tomorrow's match against Pakistan is crucial in dictating their tournament future. If they get a win against a team they've beaten twice of late, suddenly their chances of playing South Africa or India in a quarter-final reduce. If they lose, quarter-final curtains seem more certain.
5. Zimbabwe (Last week: 5)
Cleaned up Canada but still no match for the top four teams. The Black Caps had little more than an open wicket against them but were understandably cautious playing the tidy spin of Ray Price. This is more a tournament to demonstrate Zimbabwean cricket is back in the mainstream as they contemplate returning to the Future Tours Programme full time next year.
6. Canada (Last week: 6)
Punished by Zimbabwe and couldn't raise the measly 185 to capitalise on some woeful Pakistan batting. Have done themselves few favours maintaining or justifying a place at the 2015 event. Seeing Afridi carve through them was a grim watch. Must put away Kenya to sustain credibility.
7. Kenya (Last week: 7)
Being ranked seventh in this group almost doesn't do them justice. They are worse than that. Technically inept batting and ineffective bowling have resulted in three poundings. To be fair, those results with totals of 69, 112 and 142, have been against test playing nations. Tonight's match against Canada is their big hope.
Group B
1. India (Last week: 1)
India remain top but only just. Not convincing runaway victors as some had them before the tournament. Their batting can be scintillating but their bowling remains vulnerable - how could Yuvraj Singh be allowed to take five wickets against Ireland? The match against South Africa should dictate who wins this group next Saturday. The likely quarter-final opponents of the winner? New Zealand.
2. South Africa (Last week: 2)
Would have led this group but choked chasing a mere 172 to beat England. Would a World Cup winner really do that? This won't help the team's reputation of failing when it counts. Need skipper Graeme Smith and veteran Jacques Kallis to support AB de Villiers and get more than just a start. Imran Tahir is a leg spin threat, despite being hidden from the international stage until now.
3. England (Last week: 3)
The status quo is not indicative of the territory they have covered in seven days. After the tie with India they promptly had Kevin O'Brien and Ireland spank them, chasing down the 328 set for victory. Then, just when South Africa routed them for 171, they dismissed them for 165 to right their tournament. They look flaky after months on the road, but win the honours for the most headlines.
4. West Indies (Last week: 5)
Shape as capable of keeping the Caribbean's reputation for cricket alive, even if they are just hanging on to a world ranking of eighth ahead of Bangladesh in this format. With games against England, India and Ireland to come they are far from guaranteed progression, but there is plenty to intrigue with the likes of Kieran Pollard and Chris Gayle yet to fire against anyone other than the Dutch.
5. Ireland (Last week: 6)
Last week's column suffered an almighty slap in the face after blabbing Ireland "won't replicate their 2007 giant-killing feats". That statement was tempered by a patronising "will at least present stern opposition when compared to group A" - then came the England win. Thanks to pink and white-haired centurion Kevin O'Brien for exposing us as frauds as readers rightly pointed out. It's probably not enough to get them to quarter-finals, but at least they've given the tournament much-needed pep.
6. Bangladesh (Last week: 4)
Further to bungling the Irish prediction, Bangladesh do not look the semi-final heroes they were advertised as last week. Especially after receiving the privilege of playing their group matches at home. Crumbling for 58 to the West Indies was a disgrace that had skipper Shakib al-Hasan claiming it as his most embarrassing moment in international cricket. At least they put away Ireland... just.
7. The Netherlands (Last week: 7)
Last week this column contemplated whether the Netherlands could succeed without the skills of all-rounder Ryan ten Doeschate. They can't. Ten Doeschate failed with the bat and struggled to penetrate with the ball against the West Indies and South Africa. Result: the Netherlands went down by 200 plus runs.