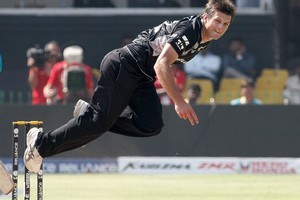 The New Zealand cricketers gave fans a flicker of hope at the World Cup with their 10-wicket win over Zimbabwe.
The match resembled an open wicket practice at times, but that was not the Black Caps' fault.
For all Zimbabwe's promise leading in, they failed to deliver through a top order that concertinaed and a much-vaunted spin attack that failed to take a wicket. New Zealand were emphatic and clinical.
It was a timely win ahead of the Black Caps' most crucial game in the group on Tuesday in Pallekele.
Inflict a first tournament loss on Pakistan - a team they have beaten twice in five completed 50-over matches in the past two months - and the group's top four could eventually be decided on run rate.
Pakistan's one-day side has surged under talismanic skipper Shahid Afridi since touring New Zealand but stumbled to a 48-run win over Canada in their last match.
On Friday, New Zealand executed coach John Wright's plan of batting time and playing the majority of shots along the ground, including a healthy diet of singles. That was complemented by reverse swing and variations with the ball and by placing pressure on quick singles in the field which resulted in two run-outs.
But Brendon McCullum and Martin Guptill's hunger for runs on a belter of a wicket means observers are none the wiser as to New Zealand's overall batting capabilities.
Opportunities have been lean since the opening practice game against Ireland on February 12, when Jesse Ryder, Ross Taylor, James Franklin and Scott Styris all got decent starts.
In fact, Taylor has been at the wicket for just 62 minutes and faced six overs in the tournament so far including the practice match against India; Franklin has been there six minutes for one over.
In Ahmedabad, lessons could be learned from the application of the unbeaten opening pair. McCullum (76 from 95 balls) and Guptill (86 from 108) both hit at strike rates of 80, executing the chase perfectly.
Wright spoke during the week about being no more than three wickets down after 35 overs. New Zealand were 166 without loss after 33.3 overs and ready to launch a whopping total if that score was extrapolated out to 50 overs.
Certainly - left-arm spinner Ray Price aside - Zimbabwe had a weak bowling line-up but there were some clear trends to the openers' batting. At the net sessions during the week, Wright had imposed a six-and-out-type policy to encourage stroke-making in the V. There was an emphasis on rotating the strike and trying to avoid forcing the pace with more than one boundary in an over.
McCullum and Guptill obliged. Fifty-two runs came in singles worked into the leg side in front of the wicket. There were 76 singles in a total of 166 and few overs contained more than one boundary.
New Zealand made 67 runs in the V, compared to Zimbabwe's 38. The exercise was a template in control which other batsmen could do worse than follow against Pakistan.
"Wrighty spoke to me about approaching it more like a test innings and that proved a reasonable tempo to operate at," McCullum said. "It was nice to pick them off on the leg side and down the ground."
The wicketkeeper/batsman said Wright's approach to practice had been effective. "The preferred option was that we only had x-amount of cricket balls and if we kept hitting them over the fence, then training would have to stop," McCullum said. "Wrighty brought a bit of tongue-in-cheek humour to the issue. The guys ended up addressing that well."
Captain Daniel Vettori was not concerned just two players batted ahead of Pakistan.
"We should just enjoy the fact Brendon and Martin got us two comfortable victories [against Zimbabwe and Kenya]. We couldn't have asked much more of ourselves."