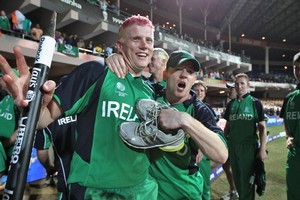 World Cups need shock results. They confound, inspire and infuriate, depending on the individual perspective. David Leggat on seven big turn-ups from the 10 editions of cricket's global tournament.
Ireland beat England by three wickets, Bangalore, March 2, 2011
Truly a "hold the front page" moment for British and Irish newspapers. Nobody gave Ireland a prayer, the more so as England piled on 327 for eight in their 50 overs. Ireland, at 111 for five at the halfway mark, seemed sunk. Then Kevin O'Brien, of Dublin's Railway Union Cricket Club, stepped up and into history. His 50-ball hundred is the fastest in cup history by the small matter of 16 balls; his 113 off 63 included 13 fours and six sixes. The job was done with five balls to spare. It is the highest successful chase in World Cup history. England were shot; Ireland were delirious. The greatest boilover of them all.
Zimbabwe beat Australia by 13 runs, Nottingham, June 9, 1983
Australia were about to enter a dark phase in their history. Kim Hughes would soon cry off as captain, but Zimbabwe? Still nine years shy of test status, this was their first ODI and they toppled an Australian side including David Hookes, Allan Border, Rod Marsh, Jeff Lawson, Dennis Lillee and Jeff Thomson.
Go figure. Duncan Fletcher, later the successful coach of England, hit 69 late on to push Zimbabwe to 239 for six, then took four for 42 from his 11 overs to restrict Australia to 227 for seven. Kepler Wessels got 76, Marsh 50 not out. The rest? Nothing. It remains one of those What The? cup days.
Kenya beat West Indies by 73 runs, Pune, Feb 29, 1996
Okay, these West Indians were not fit to tie the laces of the great teams of the previous 20 years but even so ... Kenya only made 166, but just two West Indian batsmen reached double figures, none made 20, on one of their grimmest days. The talented but soon-to-be-disgraced captain Maurice Odumbe (he received a five-year ban for association with a bookmaker) took three for 15 off 10 overs; the long-forgotten Rajab Wazir Ali three for 17 in 7.2. All out 93. A real headscratcher.
Ireland beat Pakistan by three wickets (D/L method), Jamaica, March 17, 2007
Pakistan were in trouble early and were rolled for 132 in 45.4 overs. No one reached 30. Rain intervened and Messrs Duckworth and Lewis came into play with their reduced-contest calculations. Ireland's target was 128 off 47 overs. It was far from a cinch, but Niall O'Brien, older brother of this week's hero Kevin, hit 72. No one else got to 20. At 113 for seven things were tight, before Kevin O'Brien and Trent Johnston got Ireland home. Delight turned to tragedy hours later when Pakistan's English coach Bob Woolmer was found dead in his Kingston hotel room.
Bangladesh beat Pakistan by 62 runs, Northampton, May 31, 1999
One which had the conspiracy theorists excited. Bangladesh didn't gain test entry for another year. They were still a relatively weak side. Bangladesh reached 223 for nine before Pakistan's first five batsmen tumbled for 9, 2, 0, 7 and 5. They included top-class operators Saeed Anwar, Ijaz Ahmed, Inzamam-ul-Haq and Salim Malik, later banned for life for match fixing. Pakistan made 161, but Bangladesh weren't complaining.
India beat West Indies by 43 runs, Lord's, June 25, 1983
The third World Cup final. A surprise result? Sure was, considering the West Indies had won the first two editions, included a cavalcade of some of their greats - captain Clive Lloyd, Viv Richards, Gordon Greenidge, Desmond Haynes, Clive Lloyd, Malcolm Marshall, Andy Roberts, Joel Garner and Michael Holding - and dismissed India for just 183. It seemed a lay down misere for the Windies, but they were cocky. When Richards was brilliantly caught by India's talismanic captain Kapil Dev, having raced to 33 off 28 balls, the Windies collapsed. They were all out for 140, Mohinder Amarnath's inoffensive little medium pacers took three for 12 in seven overs and India celebrated their greatest cricket day.
Zimbabwe beat England by nine runs, Albury, March 18, 1992
Since beating Australia in 1983, Zimbabwe had lost their next 18 ODIs until this game in the southern New South Wales town on the Victorian border. Zimbabwe were dismissed for 134. An English romp was in the wind. Instead a chicken farmer called Eddo Brandes sealed his place in World Cup history by taking four for 21 from his 10 overs as England capitulated for 125. Graham Gooch, Graeme Hick and Robin Smith - 35 test centuries between them - contributed a combined two, all falling to the burly medium pacer Brandes. It was one of England's horror days, yet they went on to make the final.