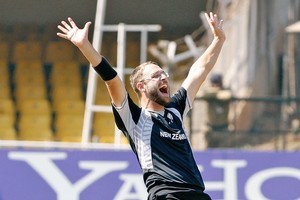 New Zealand made short work of an inadequate Zimbabwe in a one-sided romp in Ahmedabad last night.
The 10-wicket win - New Zealand's sixth by that margin - was finished off by openers Martin Guptill and Brendon McCullum sharing a 166-run partnership, with 16.3 overs to spare. Guptill finished on 86, McCullum on 76.
SCOREBOARD
CRICKET WORLD CUP STANDINGS
It puts New Zealand on four points in group A of the World Cup, level with Australia and Sri Lanka, who meet in a high-octane clash in Colombo tonight, and two behind leaders Pakistan.
If Ireland have provided the inspiration for the associate nations in the remainder of their time at the tournament with their win over England this week, the Zimbabweans were unable to grasp the nettle last night.
Having been dismissed for 162, they needed to make a hole in New Zealand's top order. However Guptill was out of the gates fast and by the 15th over, it was 68 without loss and plain sailing from then on.
Guptill seemed intent on avoiding any early twitches, taking 14 off the opening over from Tinashe Panyangara before settling into a steady rhythm.
McCullum played second fiddle for much of the time before catching him near the finish, and the arrangement worked well.
Guptill's 50 was his 10th in his 47th game; McCullum's his 19th in 187 matches. Both should take plenty of confidence out of their innings, although recognising far tougher challenges lie ahead.
Zimbabwe simply didn't have enough cutting edge in their attack to threaten Guptill and McCullum.
That Zimbabwe were able to produce something for New Zealand to chase was largely down to discovering a wag in their tail.
They should have been dismissed some way earlier than the 47th over. That said, there was sufficient heart and resolve in the lower order to prevent what could have been a humiliating day with the bat.
The first thought upon hearing Zimbabwe captain Elton Chigumbura had chosen to bat was "why?" It seemed Zimbabwe's only chance would have been to bowl and field out of their skins then leave themselves a chase.
Having chosen that course of action, it was encumbent on their openers to make a safe start.
Instead, Charles Coventry - who once hit 194 against Bangladesh in an ODI, and only Sachin Tendulkar has exceeded that - ran himself out in the dopiest fashion imaginable in the second over.
He pushed Tim Southee to mid on and was beaten by Hamish Bennett's direct throw from close range.
From then on, wickets fell at regular intervals and only opener Brendan Taylor, allrounder Greg Lamb and offspinner Prosper Utseya looked remotely capable of making a stand.
At 46 for five, Zimbabwe seemed a monty to fall well below their previous lowest total against New Zealand. Instead, that mark remains 138 at Wellington in 1998, and made by a far better Zimbabwe side than this one.
Kyle Mills, in for Jamie How in the only change from the Australian defeat last weekend, and Southee were tidy at the start. Southee had the best figures, three for 29. Bennett, put back on the bike after his flogging by Australia last weekend, should have benefited from the outing.
Captain Dan Vettori was economical in what was little more than a net workout against batsmen unsure of what approach to take against him. New Zealand next face Pakistan in Pallekele, Sri Lanka on Tuesday night.
Bangladesh were dismissed by the West Indies for 58 in Mirpur last night. It is their lowest ODI total and the fourth lowest in cup history.