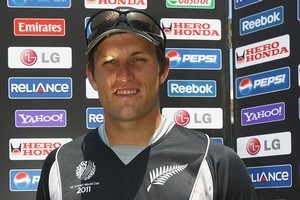 Square-shouldered Hamish Bennett has given Daniel Vettori and John Wright a pleasant problem for Friday's match against Australia; Kenya and Canada have helped solve an unpleasant one for the ICC.
Chances are Bennett, 23, would have been one of four to miss the game against Kenya had Kyle Mills been fit. With New Zealand's form so abysmal in the lead-up to the tournament, they needed to hit the ground running against the minnows and play their strongest side ahead of Australia.
Wright and Vettori now have to decide whether Bennett gives the attack a sharper edge, or whether Kenya's ineptitude is skewing the picture.
In terms of the balance of the side, Bennett can really only play if Mills doesn't.
Jacob Oram is safe because he offers left-handed, six-hitting power in the later overs, even if that ability has remained largely dormant of late.
Tim Southee is safe because he swings the ball, something bowling coach Allan Donald says is paramount on the subcontinent.
James Franklin is safe because he is seen as a batsman who can bowl a few overs of rapidly decelerating left-arm medium pace.
You can assume Nathan McCullum is safe. Unless conditions dramatically change, 20 overs of spin is a given.
New Zealand's batting is not reliable enough to carry an extra seamer, so there seems little opportunity to play Mills and Bennett in the same XI.
It's a tough call. With his unusual open-chested action, Bennett can look ordinary when he is slightly off his game, but when he gets it right his ability to jag the ball in and extract variable bounce can make life tough for the right-handers.
Mills, 31, has pedigree, with 126 ODIs and close to 200 wickets to his name. Little more than a year ago he was ranked the best 50-over bowler in the world (he has since slipped to 14th, Vettori is No 1).
There's no skirting around the fact that he has not looked himself since coming back from injury. Solid enough at the top of the innings, he has taken some fearful tap in the late overs. He does not look at peace with himself. Never that happy when a batsman dares to hit him to the boundary, Mills' teapots have become more exaggerated, his gesticulations and profanities wilder.
Even if Mills is fit, it might be that Bennett's good form gives the selectors an opportunity to give him more time to recover. But when this tournament gets to the pointy end, they're going to have a tough decision to make.
Which is in stark contrast to the decision facing the ICC over the fate of the associate nations, more aptly described as minnows. The horrible mismatches on Sunday were further ammunition for those who believe the World Cup is no place for slaughtering lambs.
New Zealand's 10-wicket demolition of Kenya took less than 32 overs - T20 takes longer.
The ICC is reducing the number of teams from 14 to 10 for the next World Cup, if in fact the 50-over format lasts that long.
It's a brutal cut, perhaps a 12-team competition would have at least given some encouragement to associate nations, but something had to give. This tournament has got off to the sort of start that turns people off the sport forever.
"I'm not sure how much a lot of the teams actually learn when they're getting hammered," said Australian captain Ricky Ponting.
Turn that on its head and you're still faced with the same question: what did New Zealand actually learn by hammering Kenya?