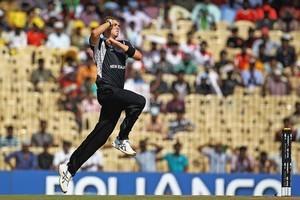 There's the whiff of an upset in the Chennai air, a growing sense that New Zealand might catch Kenya unawares and start their World Cup with a win tomorrow night.
Facetious, yes, but it's not like New Zealand have not earned it, having lost 14 of their past 16 one-day internationals before scraping past Ireland and being obliterated by India in World Cup warmups.
Kernels of hope are thin on the ground and will continue to be so, according to bowling coach Allan Donald, unless his seam department can master the art of bowling reverse swing at the death.
"The key at the death is to hold your nerve," Donald said, having watched the attack being destroyed by the combined talents of MS Dhoni and Suresh Raina.
"The ball has to swing. It's not going to move off the wicket, it has to swing - that's why reverse swing is a huge key for me at this World Cup.
It's going to be where games are won and lost.
"The other night really brought us down to earth. In the last 10 overs we went for 136, which at this level was a real eye-opener. We'll take that now, we'll get it out of the way."
With all due respect to the 2003 semifinalists, Kenya should provide an opportunity for the likes of Tim Southee, Kyle Mills and Jacob Oram to find some consistency and, more importantly, movement with the old ball.
Southee appeals as the bowler most likely to be effective at the death, but as yet the rules have not been amended to allow him to bowl from both ends.
"We're working on small things," Donald said. "When you come to the subcontinent, there's a lot of skills that come into it.
"We know where we went wrong. We've got to be on the mark when we start. It's something new to most of them.
"We've talked about preparing the ball to be able to get it going, but these days, for me, you've got to be able to [reverse] it from both around and over the wicket. That's the skill ... these guys are learning.
"India showed us that if you're slightly off the mark then you're going to get punished."
With New Zealand's confidence at a low ebb, it is likely they will start with their strongest lineup against Kenya, assuming that captain Daniel Vettori is fit to play.
That will mean the omission of Hamish Bennett, Kane Williamson, Luke Woodcock and Jamie How.
With more than 300 ODIs between them, Mills, Oram and Southee are a vastly experienced seam trio, but they're being asked to master a new trick and they haven't got much time.
"It isn't just a matter of being able to reverse swing, but how to use that tool," Mills, 31, recently said.
"I've had mixed results with death bowling. It's a massive challenge, especially when there are small boundaries and a guy like Shahid Afridi is set. Throw in the powerplays and it's pretty daunting.
"But it's international cricket and it's not meant to be easy."
Nothing has come easy to New Zealand of late. It would be foolhardy to assume that that is automatically going to change, even against the minnows.