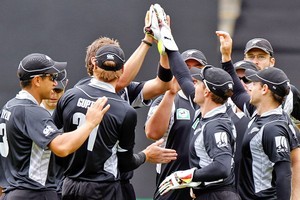 The second one-day cricket international between New Zealand and Pakistan at the Queenstown Events Centre today has been abandoned because of rain.
Frustrated spectators were officially put out of their misery at 1517 (NZT) when the umpires decided there was no chance the match could get underway by 1617, which was the cut-off point of a minimum 20 overs-a-side match.
Rain delayed the start by an hour, which initially reduced the match to 48 overs a side, but only 4.2 overs were possible before the precipitation returned and set in for the afternoon.
Pakistan had raced through to 31 without loss, with Ahmed Shehzad 25 not out and Mohammad Hafeez on four.
After several days of fine weather, there were periods of brief rain here this morning but the covers were peeled off at 1010.
A toss was made on time at 1030 - New Zealand won it and decided to bowl - but the rain returned just before the scheduled start time of 1100. The spectators were given a reprieve and 26 balls of action before the rain returned at 1220.
New Zealand lead the six-match series 1-0. The third match is at Christchurch on Saturday.
- NZPA