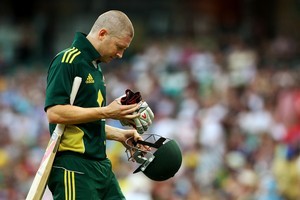 Michael Clarke insists he's not worried. He should be.
The Australian stand-in skipper has made only 55 runs in the three one-dayers against England.
Alarmingly, his strike rate is just above 56, by far the slowest scorer of Australia's specialist batsmen.
This comes after a bleak Ashes series when Clarke mustered 193 runs at an average of 21.44 - and 80 of those runs came in one innings.
Clarke reckons he's close to turning the corner. He'd want to soon, with the World Cup starting in less than a month.
"I think my form in one-day cricket over the last 12 months has been very consistent," Clarke said after making nine from 18 balls at the SCG on Sunday night.
"So right now I'm not that worried.
"And we're winning, which makes life a lot easier I guess for individuals who are not performing as well as they would like."
Clarke's one-day career is undoubtedly top notch.
Before this current competition, his past three series returned averages of 110 and 51, with an unbeaten century in between in the sole match in India not rained out last October.
His career average from 184 matches is 43.41 - better than Ricky Ponting's.
Indeed, it is better than every Australian batsman bar four - Michael Bevan (53.58), Mike Hussey (51.97), Dean Jones (44.61) and Matthew Hayden (43.81).
And it puts him 16th on the all-time worldwide list.
Which makes his current slump all the more worrying as Australia formulate their plans to win a fourth consecutive World Cup.
If Clarke was removed from the Australian outfit, where would he find form?
The only competitive cricket available until he departs for the World Cup is domestic Twenty20 - remember, he retired from the international T20 format a month ago to concentrate fully on Test and 50-over cricket.
"I'm training as hard as I possibly can," he said on Sunday night.
"I have been saying for a while now I don't think I'm far away.
"I feel like I'm seeing the ball pretty well, I just can't go on and get that result.
"All I can do is keep working hard, I've got plenty of support around me and all the guys have been very supportive ... I'm certain it's going to turn soon."
- AAP