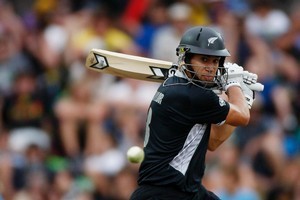 Brendon McCullum is in the middle order and Ross Taylor promoted as New Zealand do the first bit of pre-World Cup tinkering against Pakistan in Wellington today.
McCullum, the regular ODI opener, will come in at No 6 at Westpac Stadium, his start of the innings job alongside Jesse Ryder going to Martin Guptill.
Taylor is up from No 4 to No 3, to give the leading batsmen as many overs as possible. The pugnacious Scott Styris is at No 4 and lefthander James Franklin is due in at No 5.
The idea is to bolster the middle order and put more vim into the second half of the New Zealand innings.
"I wouldn't rule out Brendon still opening [come the World Cup, starting on February 19 on the sub-continent] but we'll give it a go and see where we get to," captain Dan Vettori said yesterday.
He also confirmed that Jamie How will be 12th man for the first of the six ODIs against Pakistan.
Guptill opened in the T20s against the tourists and in the second test in Wellington so this decision gives him the role in all three versions.
That's no bad thing, said Vettori, in terms of offering some consistency in thinking to the batsmen.
But he ruled out the idea of too much fiddling about on New Zealand's part in this series.
For all that it shapes as an ideal testing ground for a few ideas which New Zealand might need to implement during the World Cup, "the most important thing is for us to win", he said. "We don't want to get too carried away."
This 12 has been picked for the first two games, the other three squad members - Kane Williamson, Luke Woodcock and Kyle Mills - being left to play for their provinces in the national one-day competition.
It will be rejigged for the third game in Christchurch next weekend.
But Vettori is keen that the first choice XI has become clear before the start of the tournament, particularly in the batting.
Bowlers can be varied to allow for conditions. With the batting it's different.
"If we can be pretty sure about what the right batting order is going into the first game that's important."
Tim Southee and Hamish Bennett will take the new ball, offering a possible glimpse of the test seam attack in a year or two.
Then there's that wretched ODI run of last year to put to bed. That should be the first order of business today.
As for Pakistan, they enjoy a 48-32 win-loss record against New Zealand over 82 ODIs, with one tie and one no result.
They are buoyed by winning the test series and have their cup squad together for the next couple of weeks.
"I think you'll see we have a very good combination for the World Cup," ODI captain Shahid Afridi said yesterday. "The boys are feeling good."
As they should be, and they are bolstered by a clutch of returning faces such as ageing speedster Shoaib Akhtar, and another wicketkeeping Akmal.
Adnan, of the test team, has been replaced by older brother Kamran, the former gloveman and lively batsman who was under scrutiny in the spot-fixing scandal last year.
Saeed Ajmal, the clever offspinner so adept in the shorter forms of the game, is back after going home when his father died.
They will be a handful for New Zealand, but they may also have an issue to resolve for themselves.
Afridi is captain, but Misbah-ul-Haq is deputy in New Zealand.
Misbah led the test team and has enjoyed a remarkable resurgence in the past couple of months.
Afridi's form of late has been patchy. Pakistan's board has not named its captain for the World Cup.
The spotlight is on Afridi to show his mettle, or Misbah, who doesn't immediately appeal as a naturally attacking ODI batsman, could take over.
The Horror Run
* Aug 13: Lost to Sri Lanka by 3 wickets, Dambulla, Sri Lanka.
* Aug 25: Lost to India by 105 runs, Dambulla.
* Oct 5: Lost to Bangladesh by 9 runs (D/L method), Dhaka, Bangladesh.
* Oct 11: Lost to Bangladesh by 7 wickets, Dhaka.
* Oct 14: Lost to Bangladesh by 9 runs, Dhaka.
* Oct 17: Lost to Bangladesh by 3 runs, Dhaka.
* Nov 28: Lost to India by 40 runs, Guwahati, India.
* Dec 1: Lost to India by 8 wickets, Jaipur.
* Dec 4: Lost to India by 9 wickets, Vadodara.
* Dec 7: Lost to India by 5 wickets, Bangalore.
* Dec 10: Lost to India by 8 wickets, Chennai.
New Zealand v Pakistan
Westpac Stadium, Wellington, from 2pm today
New Zealand: Dan Vettori (c), Brendon McCullum, Martin Guptill, Jesse Ryder, Ross Taylor, Scott Styris, James Franklin, Jacob Oram, Nathan McCullum, Tim Southee, Hamish Bennett. Jamie How (12th man).
Pakistan: Shahid Afridi (c), Mohammad Hafeez, Kamran Akmal, Ahmed Shahzad, Younis Khan, Misbah-ul-Haq, Asad Shafiq, Umar Akmal, Abdur Rehman, Abdul Razzaq, Umar Gul, Shoaib Akhtar, Saeed Ajmal, Sohail Tanvir, Wahab Riaz, Tanvir Ahmed.