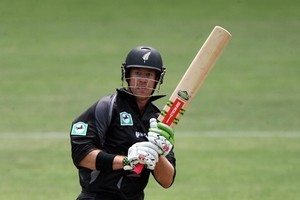 When Jacob Oram went under the surgeon's knife on September 2, he reckoned his chances of making the World Cup were remote.
Allowing for recovery, and regaining full fitness, the start date of February 19 seemed too close to have his damaged left patella tendon in top working order.
Oram is an old hand at the rehabilitation process and understands all it involves. But the passion never waned.
He's already been to two World Cups. He wanted one more.
"I wouldn't have slogged my way through five months of rehab if I didn't," he said. "When I first went back to the gym a couple of weeks after surgery, still on crutches, and I couldn't bend my knee, couldn't put weight through it, I did think to myself 'do I really want to do this'. And the answer pretty quickly was yes."
Working to a rigorous timetable, he returned in time for a couple of HRV Cup T20 games, and the final, in which his Central Districts team lost to Auckland.
He has had four one-dayers for CD this month.
There have been seven wickets from 40 overs, but just 11 runs in four innings. Still, he feels things are coming together.
The big allrounder is 32. The end is near and to paraphrase Frank Sinatra, Oram could be facing his final curtain on the sub-continent after a decade in the national side.
However, he is not making any decisions until after the tournament.
For now it's all about making a contribution to a team he believes can make an impact, provided the lessons have been absorbed from the grim visits to Sri Lanka, Bangladesh and India in the last six months.
"If the guys haven't learnt from the experience and from mistakes that's a bad sign," he said.
"Hopefully the batters have worked out different game plans for the wickets, and bowlers have worked out tactics for bowling on slower, lower pitches. We have match winners to burn."
At his best, Oram has been a valuable player, offering bludgeoning batting with tight-fisted medium pace, which has provided an anchor for the attack.
In the last two years, New Zealand have played 45 ODIs. Oram has played only 18 of them.
His batting has struggled. In those 12 innings, there was just one score over 40, a booming 83 against Bangladesh in Napier last February.
Oram knows the batting numbers haven't been flash.
"The runs have dried up and I think that's a direct correlation to the amount of time where I have not been able to stay on the park.
"That's led to me losing rhythm and confidence, and form, and consequently a lack of runs."
Give Oram his choice of an ideal job for himself and it's this: bat in the middle order, where he had time to establish himself before pressing the foot down, and bowl first or second change.
He might not finish up with precisely that mandate but the reasons the national selectors wanted him in the squad, once he proved himself fit, are obvious.
"I know I can still fulfil a role for the side, and that's exciting," he said.
"I have a new role further down the order and if it means trying to hit boundaries from ball one with 15 balls to go in the match then so be it."
Oram is relieved his knee has responded well to bowling.
The big challenge was moving up from four overs in the T20 games to 10 in the one-dayers. Oram is delighted by the messages he's getting from the knee.
"I can honestly say if anything it is getting better the more bowling I do, which is very pleasing."
Time was when Oram was sidelined he'd make a point of watching every ball on TV. Not any more.
"I'd live and die by it. But I suppose with age and the more injuries I had, it started to do my head in.
"I've actually watched very little cricket since I've been injured because it annoyed me and just reminded me of how often, and for how long, I've been injured."
Jacob Oram
Age: 32
Record:
* 141 ODIs from 2001-10
* 2203 runs at 24.75
* 142 wickets at 30.52