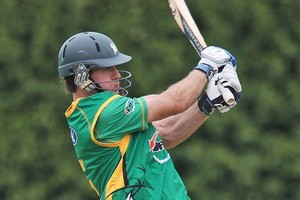 Covering their bases was a key factor for the national selectors in the 15-man squad named yesterday for the World Cup.
That meant in their calculations the need for a third spinner overrode the importance of a second specialist wicketkeeper.
So it was good news for Wellington left-armer Luke Woodcock, who gets a trip despite being uncapped in the ODI game, but Peter McGlashan misses out on a flight to the subcontinent.
The surprise pick proved to be experienced Central Districts batsman Jamie How, who doubles as the wicketkeeping backup for Brendon McCullum, should his back play up as it did in India late last year.
Cricket: How happy with the gloves
This is a punt, but somewhere along the line the selectors, convener Mark Greatbatch, Glenn Turner and Lance Cairns, were facing an either/or dilemma.
The fact there are several days between group games will give time to get McGlashan to India or Sri Lanka, where New Zealand's group games are being held, should there be a problem.
"Peter will be back here playing domestic cricket and we felt he could have been on the sideline anyway," Greatbatch said yesterday. "So he'd be better off playing cricket."
He was confident 29-year-old How could take the gloves in an emergency - "at the end of the day it's about catching the ball", Greatbatch said.
How has played 35 ODIs, averages 31.32 but has not reached 30 in his last six, which included three in India before Christmas.
He may prove surplus to requirements, as might Kane Williamson, on Greatbatch's thoughts yesterday.
Woodcock pipped Canterbury's offspinning allrounder Rob Nicol, his natural left-armer's angle helping his case, and good recent form, as support for Dan Vettori and Nathan McCullum.
Canterbury's lively Hamish Bennett got the third seamer's spot, ahead of the likes of Andy McKay and Daryl Tuffey. He impressed in Bangladesh last year and is fit again after returning early from the subsequent test tour to India.
"He's running in fast, hitting the deck hard and the way he bowls we think in subcontinental conditions, with the angle he creates back into the righthander, we think he can be useful," Greatbatch added.
Greatbatch put in a vote of confidence for big allrounder Jacob Oram, whose career recently has been a constant battle with injuries. His last appearance was at Dambulla in August.
"He's getting stronger each game, looking nimble," Greatbatch said.
"If you look at his numbers he impresses on the world stage and he brings a lot of control to our attack. We've missed him in the last year."
The strongest XI from the squad would have Tim Southee batting at No 11, which means decent batting depth. They have a pile of players who are either specialist bowlers or those capable of fiddling several overs.
Greatbatch confirmed that trials over the batting order will happen in the six-game Pakistan series, starting in Wellington on Saturday.
Both usual openers, Brendon McCullum and Jesse Ryder will spend time in the middle order, and Ross Taylor promoted to No 3 as the selectors look for the best blend.
Six players will be on standby for the Cup: bowlers McKay, Tuffey, wicketkeeper McGlashan, Nicol and batsmen Daniel Flynn and Grant Elliott.
Three of the 15, Williamson, Kyle Mills and Woodcock, will sit out the first two ODIs against Pakistan and will play for their provinces in one-day games.
* Pakistan's World Cup squad comprises 15 of their 16 players for the New Zealand series. The exception is medium pacer Tanvir Ahmed.
Veteran batsman Mohammad Yousuf has been overlooked, and a great career is almost certainly over.
No captain has been named. Shahid Afridi leads the squad in New Zealand with test skipper, Misbah-ul-Haq, his deputy.
Afridi's form is moderate of late and this looks like a way of putting Afridi on notice to perform.
CUP SQUAD
New Zealand World Cup squad: Dan Vettori (c), Brendon McCullum, Martin Guptill, Jamie How, Jesse Ryder, Ross Taylor, Scott Styris, Kane Williamson, James Franklin, Jacob Oram, Luke Woodcock, Nathan McCullum, Kyle Mills, Tim Southee, Hamish Bennett.
NEW ZEALAND'S GROUP A SCHEDULE:
* Feb 20: v Kenya, Chennai
* Feb 25: v Australia, Nagpur
* March 4: v Zimbabwe, Ahmedabad
* March 8: v Pakistan, Pallekele
* March 13: v Canada, Mumbai
* March 18: v Sri Lanka, Mumbai