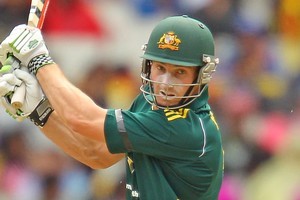 West Australian batsman Shaun Marsh has been called into Australia's one-day squad to replace Mike Hussey, who has undergone surgery for a serious hamstring injury.
Selectors say Marsh will play the next three matches against England.
Australia lead the seven-match series 1-0 after last Sunday's opening victory at the MCG.
"Whilst the injury appeared to be minor at the time and soon after the game, scans have since revealed that he has avulsed one of the hamstring tendons from the attachment point at (the) inner side of his knee," Australian team physiotherapist Alex Kountouris said in a statement.
"As such, Michael had corrective surgery today.
"The recovery time and availability for the ICC World Cup will be dependent on his progress with the rehabilitation program in the coming weeks."
- AAP