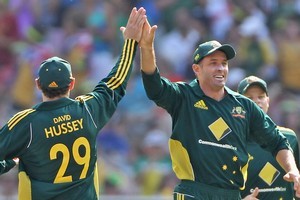 Michael Hussey's place in Australia's World Cup squad is in doubt with the inspirational batsman reportedly facing at least a month on the sidelines with a hamstring tear.
Scans on Hussey's left hamstring have revealed the left-hander has ripped part of a tendon off the bone high near the gluteus muscle under his buttocks, website SportsNewsFirst.com.au has reported.
Hussey, 35, suffered the injury while batting in Australia's one-day victory over England at the MCG on Sunday.
Australia's World Cup campaign commences against Zimbabwe on February 21 in India.
- NEWSTALK ZB