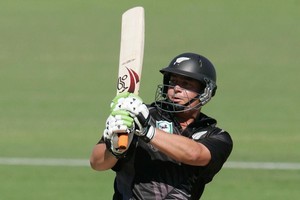 John Wright's relationship with Jesse Ryder shapes as a key to New Zealand's chances as they build towards the World Cup starting late next month.
It might be a microcosm of the overall relationship between the new coach and the team but, for the New Zealand batsman who arguably has the most time to play his shots since Martin Crowe, Ryder's potential is yet to be truly unleashed on the international scene.
Injuries continue to plague the 26-year-old left-hander. The latest was a shoulder problem which saw him - with Wright's permission - miss the warm-up match against Pakistan. There was a concern it might threaten the rehabilitation he had done on his elbow after the World Twenty20 in May. He will bowl few spells, if any, ahead of the World Cup as a result.
But Ryder's fitness does not appear to be a problem. He cruised through his fitness tests ahead of the Indian tour and finished second behind Brendon McCullum on the test batting averages with 54.80.
Wright's toughest task is winning Ryder's trust - which was a struggle for Mark Greatbatch, who had some difficulties with Ryder in his days as Central Districts coach. Player and coach left the province at the end of the 2003-04 season.
Greatbatch had inclusive intentions for Ryder when he assumed batting and selectorial responsibilities for the Black Caps last year but it was always going to be a struggle to win his favour again.
With Ryder, sources say there is always a risk of being too soft - allowing him to play coaches for his own ends, knowing he is guaranteed a spot in the team.
Likewise manager Dave Currie will battle to regain Ryder's respect after their clash during a Champions Trophy match against Sri Lanka in September 2009. He smashed a chair and verbally abused Currie when he tried to calm him down in the dressing room post-dismissal. Ryder is understood to have a long memory and does not always forgive and forget.
Ryder is one of a rare breed capable of generating a wide range of emotion from blind loyalty to disappointment to wrath. He is in the mould of golfer John Daly, footballer Paul Gascoigne or even Shane Warne - anti-heroes whose flaws are accepted by fans in return for extraordinary sporting achievements.
Other fans dismiss them because they don't adhere to the perception of a role model. Ryder has lost respect from some because of the number of times he's been given a reprieve.
This is where Wright can seize his chance. He knows pragmatism will win the day with this New Zealand team. Anything that generates a winning formula is worth sticking to - which is why he needs to harness Ryder effectively.
His test average, in a career spanning over two years has been consistently over 50, but his average opening the batting in limited overs has deteriorated of late. His average in 50-over matches has slipped from 39.64 to 33.09 in the last seven matches and his T20 average dropped under 20 in the recent series against Pakistan with scores of 6, 0 and 0.
Curiously, Ryder's presence or absence from the New Zealand team does not adversely affect their results. The only arguments for exception are T20 internationals where he has a 65 per cent winning record (11/17 matches) since debuting in February 2008.
New Zealand has a 47 per cent winning record during that same period (14/30).
In one-dayers and tests there is little measurable difference to the win record whether Ryder is playing or not. Yet he is a recognised match-winner - as seen by his 86 off 47 balls in Wellington's T20 win over Northern Districts before Christmas.
As a coach, Wright has shown a willingness to adapt, an approach which extends back to his captaincy days and beyond when he was used as a special envoy in Australia at mid-on during the 1980s. He would relay information between Jeremy Coney and Sir Richard Hadlee when they refused to talk on the field at one point during one of New Zealand's most successful periods.
Any form of flexibility from Wright will suit Ryder. He is known to not care much about the technical aspects of coaching. Often he's happy hitting balls from a bowling machine to prepare himself for a test.
That was an aspect of the Roger Mortimer-led approach that Ryder liked - he could simply work on his individual performance plan. He is not expected to change his outlook any time soon.
That will be the true test of Wright's man-management skills - solve the Ryder riddle and it could unlock the team.