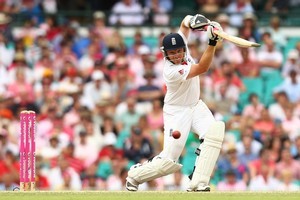 The Berlin Walls are coming down, one after another, for England's cricketers. They had not beaten Australia in a test at Lord's for 75 years but 2009 took care of that.
Now the old statistic about failing to win an away Ashes series since 1987 has been smashed. So perhaps the time is ripe for them to write another piece of history.
Coach Andy Flower and captain Andrew Strauss are not easily satisfied, so we can assume attention will soon turn to next month's World Cup on the subcontinent.
Flower is determined to see England's one-day fortunes improve - and the seven 50-over internationals against Australia which follow next week's two Twenty20 games should enable coach, captain and selectors to finalise their plans for the World Cup.
To say England are overdue a good run in the World Cup is putting it mildly. Since reaching the 1992 final, they have been diabolical.
Even without Stuart Broad, who is out of the Australia one-dayers, England look to have a pretty good side on paper. They are perhaps missing another special batsman, to go with Kevin Pietersen and Eoin Morgan, but perhaps this is the time for Ian Bell to really make his mark on the one-day team.
It is also getting close to D-Day for England as far as individuals like Luke Wright and Ravi Bopara are concerned. Wright is in the one-day squad in Australia but how much more time are they going to invest in him before Bopara comes in?
One of the biggest problems for England in 50-over cricket has been getting a decent start.
They have tried umpteen different opening partnerships but now it seems as though Strauss and keeper-batsman Steven Davies are the preferred openers. In India, England's batsmen will need to adapt to the conditions but at least the attack - with spinners Graeme Swann and Michael Yardy probably operating in tandem and Jimmy Anderson, and Broad having the ability to find reverse swing - looks well equipped.
The toughest test for Flower will be to keep the minds of his players occupied during a ridiculously long tournament.
Whatever happens though, Strauss' team deserve every word of praise for their test series triumph. The fact they made so many runs underlines that the pitches were pretty flat and yet England kept ripping through an Australian batting line-up. That is why I give so much credit to Anderson, Steven Finn, Chris Tremlett, Tim Bresnan and Swann.
- INDEPENDENT