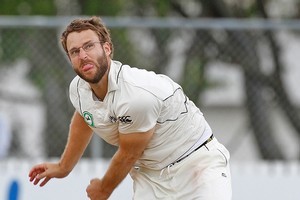 Such is the seemingly all-consuming focus on the one-day World Cup, the test series between New Zealand and Pakistan threatens to be little more than an entree ahead of the standard main course diet of limited overs cricket the remainder of the summer promises.
Three tests became two so a sixth one-day international between the two teams could be squeezed in as all roads lead to the subcontinent-hosted World Cup from late-February to early-April.
The upshot leaves New Zealand cricket followers just 10 days - weather and batting capabilities permitting - to savour the purest form of the game, starting with the first day of the first test here at Seddon Park tomorrow.
But any notion the players' minds would not be on the job and instead wandering toward the World Cup was today quickly shut down by New Zealand captain Daniel Vettori.
"I think the nature of cricket these days is that you change from format to format, and good players make sure they can switch and that's what we have to do," he said, adding that New Zealand's gameplan would be simple.
"We competed in India because we scored big first innings runs and were able to stay in the game, so that's our first goal and bring as much penetration as we can with the ball."
The test series shapes as an intriguing one between two teams with their own issues but who have enjoyed some moderate success recently in the longer form of the game.
Pakistan drew a two-test series 0-0 with powerhouse South Africa in the United Arab Emirates in November, while in the same month New Zealand earned worthy draws in two tests touring world No 1 India before capitulating in the third match.
But as their rankings of sixth (Pakistan) and eighth (New Zealand) suggest, all is not well.
Pakistan have brought a completely different squad to the one which drew a three-match series 1-1 here last summer, due in no small part to spot-fixing allegations which plagued them in 2010.
Not present are opener Salman Butt and frontline bowlers Mohammad Asif and Mohammad Aamer, the trio facing a six-day Independent Anti-Corruption Tribunal hearing starting in Doha, Qatar, tonight as the spot-fixing scandal nears a resolution. The trio have been charged with offences relating to alleged activity in a test against England at Lord's in August and what impact the hearing has on Pakistan's performance in the coming days remains to be seen.
Asif and Aamer are missed, Asif in particular with the pace bowler consistently among the wickets here last summer on pitches that suited him to a tee.
Also missing are wicketkeeper Kamran Akmal and batsman Mohammad Yousuf, once the best in the world, who were surprisingly left out of the touring party. And if the lineup that played their last test, against South Africa in November, is any indication, talented and fearless young batsman Umar Akmal, who scored a test century on debut at Dunedin last summer, will not even make the 11.
Much will hinge on captain Misbah-ul-Haq, Pakistan's fourth leader in the past year, veteran Younis Khan and in-form Azhar Ali to score the bulk of the runs, while Umar Gul and left-armer Wahab Riaz will spearhead the attack, possibly with unorthodox left-armer Sohail Tanvir, who bowls off the wrong foot, as the third seamer, though Tanvir Ahmed took claimed a six-wicket bag on debut against South Africa.
Abdur Rehman is the only spin option after offspinner Saeed Ajmal returned home following the sudden death of his father on Tuesday.
New Zealand, under new coach John Wright, needs to find greater consistency at test level, particularly with the bat. Wright has made it clear he expects the talented top six to score heavily more often, and in the first innings to set up test wins.
The hosts have a more settled lineup than the tourists and the 11 largely picks itself, with Brent Arnel expected to be given the third seamer role ahead of Daryl Tuffey.
James Franklin, impressive in the one-day segment of the Indian tour, could mount a case for Kane Williamson's No 6 spot but it would not be a strong one. Williamson scored a century on debut in India and averaged 42.4 across the series, and with his ability to bowl offspin he could be useful on a Seddon Park wicket that is expected to dry out quickly.
New Zealand start slight favourites with the bookmakers, understandably on home soil and with Pakistan missing so many frontline players, but the tourists are capable of spectacular cricket at the drop of a hat.
Teams:
New Zealand: Daniel Vettori (captain), Brendon McCullum, Tim McIntosh, Martin Guptill, Ross Taylor, Jesse Ryder, Kane Williamson, Reece Young, Tim Southee, Brent Arnel, Chris Martin, James Franklin, Daryl Tuffey (two to be omitted).
Pakistan: Misbah-ul-Haq (captain), Mohammad Hafeez, Taufeeq Umar, Azhar Ali, Younis Khan, Asad Shafiq, Umar Akmal, Adnan Akmal, Saeed Ajmal, Abdur Rehman, Umar Gul, Tanvir Ahmed, Sohail Tanvir, Wahab Riaz (three to be omitted).
Start time: 1100 NZT.
Umpires: Daryl Harper (Australia) and Rod Tucker (Australia).
Match referee: Roshan Mahanama (Sri Lanka).
- NZPA