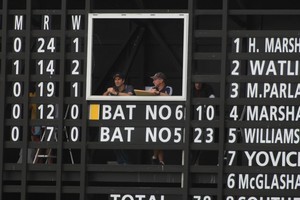 There's a strong whiff of ambition in the air around Northland cricket these days.
New Zealand are hosting the World Cup in 2015 and Northland wants to be there. That's the end game but they'd like a piece of the action before then.
The region is making all the right moves, too, with a renovated and impressive Cobham Oval the centrepiece in Whangarei.
A couple of years ago, New Zealand Cricket took a decisive step away from stadiums for its test matches.
Eden Park is being used again for one-day internationals, as is Christchurch's Jade Stadium. But cricket-specific grounds such as Hamilton's Seddon Park, University Oval in Dunedin and the grande dame of New Zealand grounds, Wellington's Basin Reserve, are favoured.
So why not Cobham Oval?
About 15 years ago there was a plan for visiting teams to start their tours with a three-day, or festival-style game in Whangarei before moving on to the serious business of the trip. For various reasons it didn't happen.
But now Northland has a fine facility. The ground, with a 5500 capacity, has a large outfield, is enveloped by grass banking and backs on to Northland rugby's HQ, officially Toll Stadium but known as Okara Park.
It's a set-up that Northland hopes will be seen by an audience beyond the region sooner rather than later.
"We've had NZC and Sky come up and lead us on what we need to do," Northland Cricket Association chief executive Gary Bell said yesterday.
International match referee Alan Hurst viewed the ground and gave a favourable report. There are enough practice facilities, temporary seating is available and possible widening of the sightscreens is the only likely addition.
"We feel we've now ticked the boxes we need to. We want to get the ground to international status and definitely have it ready for the World Cup, with a view to hosting a team, possibly warm-up games and maybe a pool game."
Pakistan's three-day tour game against a New Zealand XI, which began yesterday, is what Bell calls "a litmus test". Pass it with something approaching flying colours and Northland will strengthen their argument.
An ODI or a test against a lower-ranked nation, such as Bangladesh, is certainly within reach. And if Northland can get in now, while the view at NZC is that smaller is not necessarily an obstacle, so much the better.