David Leggat writes that a miserable run of ODI results means change is needed before the World Cup.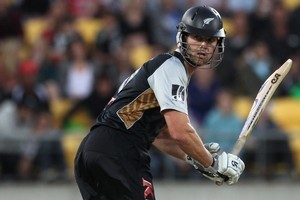 New Zealand's cricketers arrived home late last night with their ODI reputation in tatters.
Their problems are twofold - on the field and elements surrounding the team off it.
Take the first part.
The 5-0 tonking from India revealed a range of means to lose: bat poorly chasing a gettable target; bat strongly first up then bowl like drains; bat abysmally first up - take your pick, New Zealand covered most bases.
The flesh may have been willing but the spirit was weak. Too many players, notably senior figures such as Ross Taylor and Brendon McCullum with the bat and Kyle Mills with the ball, simply failed to deliver. They needed to lead the way and didn't.
Most of the rest are players looking to cement themselves into the ODI setup.
Only one player, James Franklin, can come home figuring he'd done his bit, with a couple of bracing half centuries, once he was belatedly given a chance. The result is that his name should be in the ODI squad for the World Cup back in the subcontinent in February-March.
That group is due to be named on January 19, before the six-game series against Pakistan starts.
So unless players reveal significant form in what remains of the HRV Cup - and that's hardly like for like - and the first three rounds of the domestic one-day competition, the selectors can just about sit down now and work out their World Cup names.
The final ODI at Chennai was abysmal. New Zealand were rolled for 103, their lowest one-day total against India, seventh lowest ever.
New Zealand lost seven for 32 in 9.2 overs. Certainly the pitch had turn in it. Even so, some of the shotmaking simply defied description.
If that had been Zimbabwe or Bangladesh, the reaction here would have been along the lines of "Oh well, what do you expect?" That's how poor New Zealand were.
New Zealand's batsmen managed five half centuries, two by Franklin batting at No 6. India produced four centuries and four fifties, and all bar Yusuf Pathan's spanking 123 not out in the fourth ODI came from batsmen in the top three.
Spinner Ravi Ashwin's 11 wickets matched the combined return of Daryl Tuffey, Mills, Dan Vettori, Nathan McCullum and Tim Southee. Ashwin's came in 47 overs; New Zealand's quintet needed 129.5 overs.
Wherever you looked, New Zealand were done like a dinner.
"To win one-day cricket you've got to bring everything to the table," Vettori said. "India have shown that to us in all five games. They haven't let themselves down. Unfortunately we have."
Any credit marks accrued during the first two tests have gone, and this series throws into sharp relief a range of off-field issues.
Among them is Vettori's captaincy, allied to his role as one of three selectors. His hands are full.
He is safe as skipper, but could revisit being an official selector in favour of having a less formal role within that group.
Then there's Mark Greatbatch's position. He is a selector and batting coach but sometimes gets called head coach. There is no head coach, so, bottom line, whose voices are the players listening to? Who's the boss?
Greatbatch, an amiable man, never particularly coveted the head coach title. He wanted to oversee the batting. But almost by default he's become it.
There is a simple structure which should be the core of the group: manager, coach, captain, physiotherapist. Everything stems from that.
Performance director Roger Mortimer's job is to improve players' results, bringing in specialists as and when required.
On the basis of the last couple of months, taking in the 4-0 ODI drubbing in Bangladesh, it's not working.
Something needs to be done, and sharpish, because the present one-day shambles can't continue.