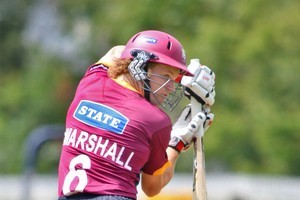 Former Black Cap Hamish Marshall's request to be allowed to play for Ireland at next year's World Cup has been denied.
Former England batsman Ed Joyce has been granted a special dispensation by the ICC to turn out at the Cup for Ireland but Marshall won't be allowed to play for them until April.
Both players last played international cricket for their respective former countries in 2007 and, under normal ICC regulations, would not have become eligible to play for Ireland in official ODIs until April next year.
However Joyce has been granted permission for his four-year standout period to be slightly reduced due to his Irish background and strong ties to Irish cricket from childhood.
Marshall is an Irish passport holder and is also eyeing a coaching role in Irish cricket.
- NEWSTALK ZB