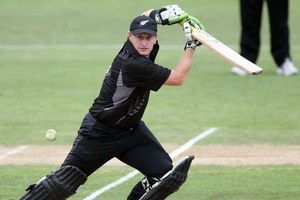 One swallow and all that. Even so, New Zealand's stonking 200-run win against India to start their international season is worth a small celebration.
Up to second behind Australia on the International Cricket Council's ODI rankings too, for what that is worth. Six points cover five teams. Still it is at least confirmation that this is a form of the game in which New Zealand are solidly competitive.
It was their fourth biggest ODI winning margin and - with due respect to Ireland and the United States - second only to the 206-run marmalising of Australia at Adelaide in 1986 when facing the world game's heavy brigade.
New Zealand are not such an all-conquering cricket nation that these events should be treated as ho-hum, and there were admirable qualities to their work in the heat of Dambulla, 150km northeast of the capital, Colombo.
Perhaps most important is the confidence it should have imbued the squad with in the absence of their best player, captain Dan Vettori, and Brendon McCullum, both having time off.
And in that respect, stand-in skipper Ross Taylor's contribution was significant.
Having to pull New Zealand out of a hole at 28 for three, he and old hand Scott Styris' 190-run stand - New Zealand's best fourth-wicket partnership in ODIs, overtaking Lee Germon and Chris Harris' 168 against Australia at the 1996 World Cup - showed the value of experienced hands on the tiller.
Although both survived early scrapes, they had sufficient nous to capitalise against a bowling attack which won't be among the most incisive they'll face this season.
Indeed the Sri Lankan side they play tomorrow night, with Lasith Malinga and Ajantha Mendis for starters, should pose more questions than India did.
Even so, the job had to be done and the pair did it well. They took their time, ran hard between the wickets and both had centuries in their sights before departing.
For Taylor, there were later four catches and overseeing a bowling attack which put up a strong combined display to roll India for 88.
Styris, as if armed with a resolution to prove the selectors wrong for overlooking him early last season, is mounting an unarguable case as a World Cup monty selection for the sub-continent in February-March.
You sometimes get a feeling every run the 35-year-old accumulates has a "take that" element aimed at the selectors. Whatever works, and if so, it's working a treat.
He now averages 57.6 since his recall against Australia in March.
When India batted, the experience card proved decisive, with Kyle Mills, Daryl Tuffey and Jacob Oram sharing seven wickets.
It could have been better. The tail didn't kick on as it might, and Kane Williamson has more ODI wickets - one - than runs after his debut.
India were pretty average, it should be said, for much of the game. Certainly there were no Zaheer Khan or Harbhajan Singh to stiffen the bowling attack; Sachin Tendulkar and Gautam Gambhir were missing too.
Still they had enough quality to have mustered a better allround effort. It was their fifth lowest ODI total, and worst against New Zealand. There are about 20 ODIs remaining for New Zealand before the World Cup. That's the end game. This was a decent first step.