The ICC Twenty20 World Cup gets under way at the end of the week. Andrew Alderson gives a rundown of the teams.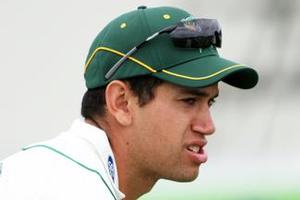 * Australia (Group A)
The skinny: Australia's Twenty20 record needs a spruce up. Made the semifinals in 2007 but went out in the first round of last year's tournament. Have gone for a specialist look this time.
Player to watch: Michael Clarke. Australia have won just 15 of their 29 Twenty20 internationals, but have recorded four wins and a tie since Clarke became permanent captain last season.
Wildcard: Brett Lee. Passed a late fitness test, meaning Ryan Harris and Doug Bollinger missed out. Lee had figures of 0-149 from four IPL matches and conceded more than 10 an over before breaking his right thumb.
History: 2007 semifinals, 2009 Group.
* Bangladesh (Group A)
The skinny: Their key match is against Pakistan . Beat them and they're on their way to the Super Eight, otherwise they've got to do it against Australia.
They did that in 2005 and also beat Pakistan in 1999.
Player to watch: Shakib Al Hasan.
He has struggled in Twenty20s but is undoubtedly a quality player. Hasan's wily left-arm orthodox spin could suit the slow turning pitches and he has also notched up one-day hundreds in the middle order.
Wildcard: Mahmudullah. Any man who goes by one name needs a close eye kept on him for star status like Jonah or LeBron.
History: 2007 Super Eight, 2009 Group.
* Pakistan (Group A)
The skinny: It's hard to imagine them defending the title they won in 2009, especially given the state of affairs on the home front. They also have a peculiar tendency to fold up the tent in the most bizarre circumstances. Have made both finals to date.
Player to watch: Umar Akmal. The 19-year-old is an audacious talent, evidenced by his Twenty20-like century on test debut against New Zealand in Dunedin.
Wildcard: Mohammad Aamer. The left-armer has just turned 18 but there are precious few batsmen who won't have some form of trepidation when he bounces in complete with Lillee-esque headband.
History: 2007 finalists, 2009 winners.
* New Zealand (Group C)
The skinny: Black Caps fans have every right to feel optimistic - as long as everyone stays fully fit. The more abridged the cricket, the likelier New Zealand are to win.
Player to watch: Ross Taylor. Taylor didn't enjoy huge success in the IPL but he has an incredible eye that can blast away at any stage of the innings.
Wildcard: Jesse Ryder. But how fit is he and where is his head at?
History: 2007 semifinals, 2009 Super Eight.
* South Africa (Group B)
The skinny: South Africa remain one of the best teams in the last decade never to have won a limited-overs tournament. The team look close to invincible at times but they suffer from 'All Blacks syndrome' when it counts.
Player to watch: Jacques Kallis. A world-class cricketer across any generation, Kallis has now proven his adaptability in the shortest form of the game too.
Wildcard: Morne Morkel. Morkel appears to be coming back to his venomous best after a strong test series against England. His new-ball partnership with Dale Steyn looks lethal.
History: 2007 Super Eight, 2009 semifinals.
* Zimbabwe (Group C)
The skinny: Fancy their chances against New Zealand and arrived early for a dedicated warm-up schedule. Their strength is expected to be in their spinners.
Player to watch: Ray Price. Guile and aggression are deemed to be Price's best attributes with the ball rather than being a big turner. Don't be surprised if he takes the new ball.
Wildcard: Charles Coventry. Anyone who has held the world's highest score in one-day internationals can't be brushed aside. Coventry hit an unbeaten 194 against Bangladesh last August.
History: 2007 Absent, 2009 Group.
* Afghanistan (Group B)
The skinny: It's remarkable that this side is even here. They were in ICC's fifth division of the ICC two years ago and this is the first time an affiliate member has qualified for a major tournament. In an ironic way, the Taleban somehow gave cricket a reprieve from being banned in 2000.
Player to watch: Mohammad Nabi. Hard-hitting batsman and quality off-spin bowler. Walloped 73 off 38 balls to help win the final of the ACC Twenty20 Cup against the UAE last November.
Wildcard: Hamid Hassan. His heroics enabled the side to beat the UAE in the group stages when he hit 10 off the last two balls to seal a one-wicket win.
World Cup history: None.
* India (Group B)
The skinny: Among the favourites having won in 2007. Their players have all been involved in the IPL but they are without Virender Sehwag (injured) and Sachin Tendulkar. Well balanced side led by the charismatic Mahendra Singh Dhoni.
Player to watch: Suresh Raina. Was in scintillating form for the Chennai Super Kings, averaging 42 and at a strike rate of 140.
Wildcard: Murali Vijay. Called in at late notice for Sehwag, Vijay has proven he can batter attacks into submission. Hit 127 off 56 balls for the Super Kings recently.
History: 2007 winners, 2009 Super Eight.
* Sri Lanka (Group C)
The skinny: Always a contender at this type of event. They have struggled in the Twenty20 format recently, though, losing five of their last six games.
Player to watch: Tillakaratne Dilshan. Last year's Player of the Tournament remains a potent batsman in this form of the game.
Wildcard: Sanath Jayasuriya is 40 and was recently elected to Parliament but it hasn't helped his cricket. He had a dreadful IPL, playing just four games for the Mumbai Indians.
History: 2007 Super Eight, 2009 finalists.
* England (Group D)
The skinny: At least England's football team can argue they've actually won a World Cup. Their cricketing counterparts have not been able to achieve the same parity in 35 years of trying. Travel disruptions this time thanks to the Icelandic volcano won't have helped preparations.
Player to watch: Kevin Pietersen. After a tough tour of South Africa, Pietersen averaged 51.75 at a strike rate of over 150 in six innings in the IPL.
Wildcard: Michael Lumb. He's 30 and uncapped but was prolific in 2009, including an unbeaten 124 from 69 balls against Essex.
History: 2007 Super Eight, 2009 Super Eight.
* Ireland (Group D)
The skinny: Ireland have proven worthy of their place despite mere ICC associate member status. They beat Pakistan at the 2007 50-over World Cup and Bangladesh at last year's Twenty20 event.
Player to watch: Niall O'Brien. The wicketkeeper-batsman performed strongly at last year's 50-over World Cup and his match-winning 40 against Bangladesh helped seal a place in the Super Eight. Also scored 72 in a shock win over Pakistan at the 2007 World Cup.
Wildcard: Boyd Rankin. Can the Londonderry cattle and sheep farmer get back to full fitness in time? Ireland need him. Took 12 wickets at 27 at the 2007 World Cup.
History: 2009 Super Eight.
* West Indies (Group D)
The skinny: The Windies are at home and are loaded with talent now their contract situation is sound.
Player to watch: Chris Gayle is the key threat. He was the first man to blast a century in a Twenty20 international and he's not averse to launching against anyone and everyone. Wildcard: Kieron Pollard proved his US$750,000 worth at the IPL. In 13 matches he scored at a strikerate of 180 and rifled out 14 victims with the ball at an economy rate under seven.
History: 2007 Group, 2009 semifinals.