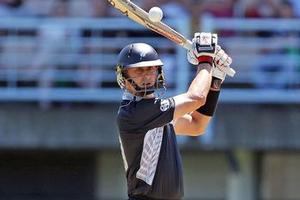 One-day international cricket is the form of the game at which the Black Caps are most successful and could do the most for our reputation in the near future.
The World Cup is only 13 months away. It comes around only once every four years and, even with the emergence of Twenty20, is still the biggest prize in world cricket.
It's about time New Zealand won it. For cricket here to gain the respect it desires, only victory will do.
So do we have the goods to win the 2011 World Cup in the subcontinent? In short, yes.
I'm not getting carried away with what I saw in New Zealand's crushing defeat of Bangladesh in Napier on Friday because I'm well aware of Bangladesh's shortcomings.
Quite frankly, what they have shown me over the past two games suggests they wouldn't even make the final of our domestic competition.
What I am impressed with, however, is the depth New Zealand are creating, particularly in the batting. Peter Ingram looks an interesting prospect but don't forget Jesse Ryder is still to return.
Ryder and Brendon McCullum are potentially a devastating combination but if Ingram can back up his top debut, there's cover at the top.
The openers are backed up by Martin Guptill, who is proven now at ODI level, and Ross Taylor, who is approaching world class.
Five is obviously a position of experimentation, given James Franklin played as a specialist five on Friday, but Neil Broom made valuable runs at six.
With Scott Styris still highly capable, Lou Vincent back on the scene and Franklin yet to realise his international batting potential, there are options for five and six.
We know the qualities of Daniel Vettori and, under an element of pressure on Friday, he played an innings at seven that deserved more praise. His 38 was overshadowed by Jacob Oram's batting blitz.
Putting Oram at eight might have been to ensure strength in the lower order so the power play could be delayed until well into the last 10 overs. If so, it worked perfectly for Vettori.
I've mentioned 11 names that can fill eight batting spots and potentially in any order. That is a very healthy situation.
In that list of 11 are the wicketkeeper and a potential for 60 overs of bowling, including the best bowler in the team.
Factor in the return of Shane Bond and Kyle Mills, then there's competition for the last spot in Ian Butler, Daryl Tuffey, Tim Southee, Andy MacKay and Nathan McCullum. There's plenty of batting ability in that lot, too.
Depth and options means the future looks rosy in ODIs. But bear in mind that it's one thing for this team to bully Bangladesh.
It is another to realise your capabilities against the world heavyweights and perform in the big fixtures.