The executive chef of dine by Peter Gordon at SkyCity answers your cuisine questions.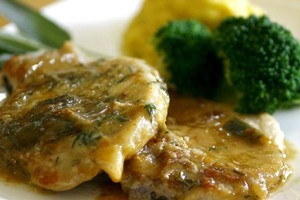 My pork chop problem: my parents raise a free-range pig each summer. They have got lovely loin chops still on the bone but we have have issues cooking them. Roasting them made them tough and dry. I tried pan-frying them in the oven till medium so they were moist, but they were still tough. What is the best way to cook them?
- Thanks, Cath
P.S You rock, love your food
Thanks for the feedback. Mum breadcrumbs tricky pork then pan-fries it in butter and a little oil and bakes in medium oven - it keeps it juicy and very delicious.
I have recently being told of a chutney recipe using figs, walnuts and whiskey. Do you know how I could make this? How much liquid (whiskey) should I use in proportion to fruit and nuts? What spices would work with this?
- Thanks, Gloria.
Funnily enough, I make this myself and sell through Sabato and other retailers.
I couldn't possibly give the recipe away ...
I tried an interesting liquorice icecream with an orange sauce that I'd love to try in my home icecream maker. It wasn't overly aniseedy or cough-syrupy. What would I use to get the liquorice flavour - crumbed/ground sweets or is there a powder or extract you can buy?
- Caroline
You can buy liquorice pastilles from France (or is it Italy) from Sabato, Nosh Food Market and other top delis. We make pannacotta from them just by crushing them and infusing in milk and cream.
* To ask Peter a question, click on the Email Peter link below.