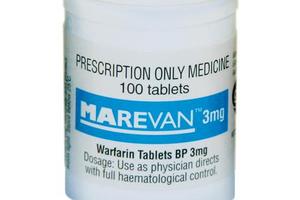 A common blood-thinning drug is being recalled after a manufacturing blunder that could cause thousands of New Zealanders to accidentally overdose.
GlaxoSmithKline (GSK) is recalling all blue Marevan 3mg tablets dispensed to patients since November 23. The anticoagulant, which contains the active ingredient warfarin, is used widely in New Zealand to thin the blood of people at risk of clots. But taking too much can cause vomiting, bleeding and bruising and in extreme circumstances can be fatal.
GSK said last night that a manufacturing error meant the tablets could contain more warfarin than the amount stated on the label, putting patients at an increased risk of bruising and bleeding.
A spokeswoman was unsure exactly how much more of the medicine than the specified amount had been discovered in the 3mg tablets.
The company said it had launched an investigation into how the mistake happened.
However, it was confident there were no widespread concerns about other drugs.
"The results of our investigations to date give us confidence that this is an isolated incident," said the general manager at GSK New Zealand, Geoff McDonald.
Marevan is available in three strengths: 1mg brown, 3mg blue and 5mg pink tablets. The recall affects only the 3mg blue tablets.
The Government's drug agency, Pharmac, said about 13,000 New Zealanders took that type of the drug.
Most are people who have had heart attacks. Many could be at increased risk from the error because of other medications they are also taking.
Anyone taking the drugs should contact their doctor, though they should not stop taking the Marevan.
Signs of increased anticoagulant levels include abnormal bleeding or bruising, vomiting with the appearance of coffee grounds or blood, blood in the urine or stool.
GSK said no cases of adverse affects had been reported so far.
Mr McDonald said the manufacturer of the pills - made in NZ under contract to GSK - told him last week that an irregular sized tablet had been discovered in a batch.
Testing showed the pill contained higher levels of warfarin than was printed on the label.
The company then recalled 140 bottles of 100 pills from a wholesaler and found four more irregular tablets.
Mr McDonald said GSK had worked with the manufacturer for a number of years and this was the first recall of a product. "We're certain this is a one-off incident."
After contacting Medsafe, which regulates medicines in NZ, GSK decided to recall all blue 3mg tablets.
GSK is working with doctors and pharmacists to contact patients who may be affected by the recall.
Annabel Young, chief executive of the Pharmacy Guild, said community pharmacists were attempting to contact affected patients.
"It's one of those drugs where a very small difference in dose can have a very big difference on impact."
Ms Young said a recall at consumer level was very unusual and it would be a time-consuming job for pharmacists to deal with.
"We will be asking the Minister of Health to put pressure on GSK to reimburse our members for the costs involved in this issue."