Analyst predicts Telecom faces major battle to fight off rival's bid for a greater share of broadband market.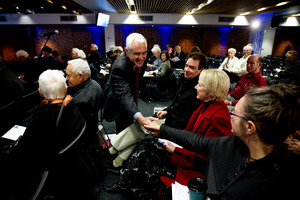 With its $840 million takeover of TelstraClear passing through the required regulatory hoops, a beefed-up Vodafone is on the hunt for customers and is now well placed to emerge as the country's leading mobile and internet provider, says one analyst.
For Telecom, still in the shadow of its seismic corporate shakeup and split with Chorus, this means fending off a wolf at its door that could eat into its dominance in the broadband market.
Vodafone is no idle threat to New Zealand's largest-listed company, says telecommunications analyst Paul Budde.
"Their marketing skills, their marketing capability, their brand, all of that is superior to Telecom's," Budde said.
"They have therefore a much better chance long-term, that doesn't happen overnight, to do exactly what they did in the mobile market, which is outmanoeuvre Telecom totally ... they're going to repeat that in the fixed [line and broadband] market. Why wouldn't they? I mean, the market in that respect is wide open." he said.
Particularly when the Government's ultra-fast broadband scheme begins to get traction and fibre internet cables are laid past more homes, the Sydney-based analyst said he would not be surprised if Vodafone quickly establishes itself as the major player in the consumer space.
"It would be a mammoth task for Telecom to fend off any sort of marketing advances that Vodafone is going to put in place," Budde said.
That being said, catching up to Telecom's lead in broadband would be no mean feat.
Even with the addition of TelstraClear's customers, Vodafone holds just under a third of the broadband market, compared with Telecom's 49 per cent share.
Craigs Investment Partners' Arie Dekker said that advances in the market by Vodafone should not be ruled out and agreed the company had proven its panache for marketing.
But its marketing and brand was not the whole story behind Vodafone's winning the largest chunk of the country's mobile customers.
According to the latest available numbers, Vodafone has about 2.4 million mobile connections which represents about 48 per cent of the market, while Telecom has about 32 per cent.
"They basically had a stronger mobile network, they had the availability of better handsets and that was equally a large contributor as its marketing, I think in fixed [line] in New Zealand, the playing field is much more level," Dekker said.
Dekker said Telecom's new chief executive Simon Moutter had also signalled the company would invest during this financial year to stem the loss of broadband customers.
"They're looking to draw a line in the sand to retain market share," he said.
Citigroup analyst Justin Diddams said the Vodafone-TelstraClear deal gives the telco the scale to offer more competitive prices and he believed it will take ground from in the fixed-line telephony market.
According to First NZ Capital's Greg Main, part of Telecom's plan could be to launch a broadband sub-brand to target younger customers much like it has done with Skinny in the mobile space.
As competition intensifies, Main also said, Telecom and Vodafone may begin selling mobile phone services as part of the phone and internet bundles they sell to households.
This would "lock-in" customers with a provider and mean they are less likely to change to a rival.
Whether or not Vodafone can woo Telecom's customers, most commentators are certain competition is going to heat-up in the coming months.
For Diddams, this means New Zealanders should expect telcos to offer more attractive plans in their effort to draw in customers.
Telecommunications Users Association chief executive Paul Brislen agreed prices should fall as Telecom and Vodafone battle it out.
But although the market would have the appearance of competition, Budde believed there was a real danger of a duopoly forming.
"A duopoly in general does not lead to maximising competition, there is no real incentive for two players to kill each other," Budde said. "There will be some sort of unwritten gentleman's agreement at a certain stage," he said.
"For all intents and purposes it will appear that there is competition but then if you compare New Zealand prices and products with prices and products in more competitive markets then you will very quickly see that the prices in New Zealand are higher than the rest of the world and innovation will be slower."
The Commerce Commission - in approving the Vodafone/TelstraClear takeover - did not share Budde's view.
In giving the merger the go-ahead the market regulator's chairman Mark Berry said the Vodafone's acquisition "would be unlikely to substantially lessen competition in any of the relevant markets".
"The commission considered that the merged entity would continue to face competition from Telecom, as well as Orcon, Slingshot and other smaller businesses in providing fixed line voice and broadband services to residential and small business customers," he said.
Brislen, however, said the commission should keep an eye on the market and intervene if necessary.
"There is a risk [of a duopoly]," Brislen said.
"Everyone I speak to at Vodafone, from [chief executive] Russell Stanners down assures me they'll be as competitive as they can be, predominantly off the back of them investing $800 million of the parent company's money.
"They are determined to win market share because they have to, otherwise heads will roll."
Why Telecom's Simon Moutter thinks they'll win broadband war
Telecom chief executive Simon Moutter says it's "game on in middle New Zealand households" as two of his company's biggest competitors, Vodafone and TelstraClear, join forces and competition in the broadband market is set to intensify.
The new Telecom boss believed the merger would add an interesting dynamic to the industry but said that in acquiring a rival fixed-line business, Vodafone was following the same path it had trodden in other countries.
"It's not a local strategy," Moutter said.
"They're in 20 countries - we're in one. This is our market, they're in multiple markets," he said.
"They're going to make trade-offs between this market and their 19 other markets, they'll invest here if the returns are good ... we'll invest here because this is it for us," Moutter told the Herald this week.
"In my view the local approach will win but I've got to ... substantiate how we're going to do that."
Under his watch, Moutter hoped to lead "a new, more assertive and ambitious Telecom" and said the company could not keep losing share in the broadband market.
Now that Telstra - TelstraClear's Australian parent - was out of the New Zealand market, Telecom could work "more productively" with the carrier across the Tasman, which could include mobile roaming agreements.
Where they stand
Merged Vodafone/TelstraClear
* Mobile connections: 2.4 million
* Broadband market share: 29 per cent
* Staff: 3300 (at the time of the merger)
Telecom
* Mobile connections : 1.6 million
* Broadband market share: 49 per cent
* Staff: 7619 (as at June 30, 2012).