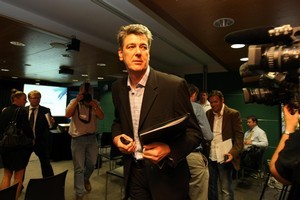 Outgoing Telecom chief executive Paul Reynolds was a competent leader who steered the company through difficult years, commentators say.
The company announced yesterday that Reynolds would leave before July next year.
The 54-year-old Scotsman joined Telecom as chief executive in September 2007.
Since then he has been forced to deal with a heavy bout of government regulation and a slump in the company's share price.
"He's had the most extraordinary period to lead the company through and all this stuff's been imposed on him by successive governments which he has been battling against. My feeling is that he has done well in an incredibly difficult environment," said Forsyth Barr analyst Guy Hallwright.
BT Funds Management portfolio manager Matt Goodson agreed that Reynolds had performed well.
"Over the last year or two in particular, he has done a decent job in leading Telecom through an incredibly complex period for them," Goodson said.
The Telecom boss deserved praise for leading Telecom to win the bulk of government broadband contracts, Hallwright said.
"The fact he brought Telecom to be the main player in the UFB process when people were worried they could be sidelined is a big tick."
Reynolds was thrust into the public eye early this year after he appeared on television adverts dressed in fly-fishing gear apologising for mass failures on the company's XT network.
Before he joined Telecom, Reynolds rose rapidly, culminating in his appointment as chief of Britain's BT Wholesale in 2000 and appointment to the BT board in 2001.