VIVA is behind the scenes at New Zealand Fashion week 2013 with directional label 'twenty-seven names'. Founded since 2006, designers Rachel Easting and Anjali Stewart cite contemporary art as the basis for their collections. The label name is a homage to the list of 27 people who helped to get their label off the ground. We learn how a trip to Brussels inspired their newest collection. Amber D, M.A.C Senior Artist Oceania tells how the make-up & hair also portrays the labels style & look.
Latest NZH Video
Jacinda Ardern speaks at the 'Let's Talk to Labour' youth event.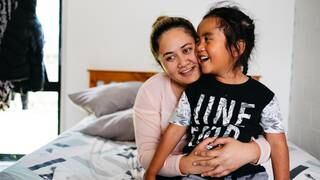 19 Aug, 2017 3:54pm
2 minutes to read
Exclusive: Compelling documentary challenges stereotypes around young mothers.
Protesters marching on Dunedin Hospital have forced Prime Minister Bill English and his entourage out a side door this afternoon. Source: ODT