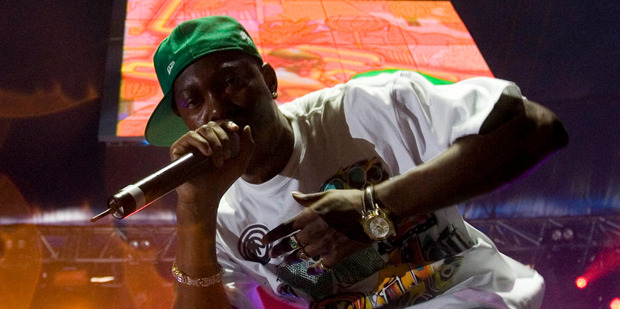 He was here less than a year ago but it seems this Rascal can't get enough of making New Zealand fans go bonkers.
Yep, UK rapper Dizzee Rascal is set to headline a stadium tour of New Zealand with two dates confirmed for April and May. The Dance Wiv Me hitmaker will perform at Auckland's Vector Arena on Wednesday, April 30, and at Wellington's TSB Arena on Thursday, May 1.
Rascal, real name Dylan Mills, has been here twice as part of the Big Day Out (in 2008 and 2010), and also has a sweat-drenched 2008 Powerstation show to his name.
And he was here just last year to headline the Back to the Future dance event at Vector with Azealia Banks and A-Trak in support.
Herald reviewer Shandelle Battersby called Rascal's set "great fun". "Oozing with energy, Rascal cavorted around every inch of the stage, making you wonder how he had enough breath to spit out his rhymes," she said.
Rascal has released a new album since then, and while The Fifth hasn't been as well received as previous releases, its dance-infused anthems I Don't Need a Reason, Superman and Goin' Crazy are likely to fare much better when performed for an up-for-it crowd.
The Fifth showed Rascal has come a long way since winning the Mercury Music Prize in 2003 for his debut album, Boy in da Corner, a grimy, brash and confronting urban ride through life in London's underclass.
But by the time of 2009's Tongue 'n' Cheek, Rascal had become a fully fledged pop star, crafting three of the year's biggest hits in Dance Wiv Me, Bonkers and Holiday.
It's likely they'll all get an airing at his shows, tickets for which go on sale on February 21 through Ticketmaster. A pre-sale for Frontier Members begins at 2pm on February 18.
Meanwhile, Aussie rockers the Jezabels were just here for the Laneway Festival, but they loved it so much they're planning a repeat trip with two dates planned for May.
The Sydney four-piece, led by the powerhouse vocals of Hayley Mary, have just released their new album, The Brink, and they'll be playing at Auckland's Kings Arms on May 14 and Wellington's Bodega on May 15 in support of it. Tickets are available now through dashtickets.co.nz.
Elsewhere, Megadeth have confirmed they're still coming to headline Auckland's upcoming two-day metal festival Westfest, despite pulling out of all of their Australian tour dates.
They're scheduled to perform at Vector Arena on the first night of the festival, February 19, alongside Rob Zombie, Five Finger Death Punch and Eagles of Death Metal. Korn headline the following night (Feb 20).
The Los Angeles metallers, led by Dave Mustaine, pulled out of Australia's Soundwave festival and all sideshows earlier this week..
"Due to circumstances beyond their control, unfortunately Megadeth has to cancel their Australian dates," the band said, a statement which led to a war of words with Soundwave promoters.
"They [Megadeth] still fully intend to play Auckland," promoter Olly Martin told TimeOut. That clears that up then.
Lastly, up-and-coming Wellington singer Estere has joined the bill for Erykah Badu's upcoming Auckland show. She'll play support for Badu at the Civic Theatre on April 10.
- TimeOut