Jon Anderson reflects on more than 40 years of making music. Scott Kara catches up with him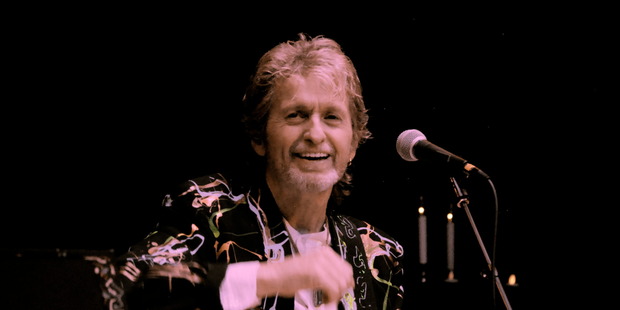 As anyone who has ever heard a Yes song knows, singer Jon Anderson has a very high voice. Hear the man soar at the end of 1971's rumbling psychedelic beauty Heart of the Sunrise ... or try hitting the high notes on the band's most famous song, Owner of a Lonely Heart.
But when it comes time to talk to Anderson, you expect his voice to be normal. It's not. It's high-pitched, slightly squeaky, and I almost mistake him for a woman but soon realise it's the man himself on the line from his home in central California.
As he finishes preparing dinner for him and "my beautiful wife" - "It's a special ginger, coconut ... actually, I don't know what it is, I just throw things together and it comes out okay" - the British-born musician chats about his upcoming concerts in New Zealand.
Billed as An Intimate Evening with Jon Anderson, he sings songs from across his 45-year career and plays piano, ukulele, dulcimer, and guitar as well as sharing stories about the songs and his life. It is in a similar to vein to his good friend, pioneering keyboard player and former Yes bandmate Rick Wakeman's shows last year.
"It's just like being in the front room of my house sort of idea," he says of the shows. "More or less I sing the songs I enjoy singing still. It's always a reflection of my life, from Yes, my solo work, a few new ones, and two or three songs from Vangelis," he says referring to the Greek musician, most famous for the soundtracks to Blade Runner and Chariots of Fire, with whom Anderson has collaborated many times over the years.
"So by the time I'm finished it's almost two hours long. And then I get to a place where I like to explain a couple of things about the songs and what life was like in those days. Or when I first met Vangelis."
For his upcoming shows he's been rehearsing everything from 1983's No1 hit Owner of a Lonely Heart and fan favourite Wonderous Stories from 1977 album Going For the One, to a special piano version of Heart of the Sunrise ("I can't play the fiddly bit though").
"They are just songs I love to sing and there's just something about them that makes them timeless. And on the piano I sing little bits of [1972 classic album] Close to the Edge and [Tales From] Topographic Oceans."
His canon of work is vast. Including his 18 albums with Yes, and many solo albums, he has also collaborated with everyone from Vangelis ("I loved the guy. He was funny and he talked about girls all the time - he wanted to make music to get girls") and Japanese new-age ambient maestro Kitaro through to prog rock pioneers King Crimson and frilly modern-day metallers Dream Theatre.
"I'm always creating music in the studio and I always go in there for at least three or four hours [a day] and then come out and do other things.
"But I always like to go in get into that creative zone.
"It's something I started doing in London way back when I got my first couple of reel-to-reels in my home. Then you get the chance to go into a proper studio but every house I've had since the 70s has had a studio in it so I'm comfortable with that [home recording] environment."
It was in 1968 when Anderson met soon-to-be Yes bass player Chris Squire, and along with drummer Bill Bruford, guitarist Peter Banks and keyboard player Tony Kaye they set about making music unlike anyone had heard before. Turns out, it came naturally because, as Anderson explains, "each guy in the band played a different sort of music".
"You had Bill who was a very jazz-orientated drummer. Chris was a very unique bass player, and still is. Peter was a kind of Pete Townshend-style guitarist. And Tony was more R&B. So when we played we didn't really have to say, 'You play this, and you play that'. We just played what we wanted and that was the key to the band, and as long as we played in the same key, it would sound okay," he laughs.
As well as being "spoonfed the Beatles and melody" they were also into bands such as Vanilla Fudge, a New York group famous for rearranging popular songs, slowing them down, and generally making them more psychedelic and trippy.
"So we would structure the music so it was like listening to a movie score, or a symphony, but rock music with symphonic scope.
"There were quiet sections, crazy wild sections, and so when we did shows the audiences were very, very open in those days.
"They didn't want to hear pop music, they just wanted to hear good music.
"I never thought about hit singles. If I was lucky to get a hit song then the gods are blessing me, and that's fine, but I never went round thinking, 'I've got to have a hit record'," says Anderson.
"I just wanted to make an album that meant something so I could perform it on stage so I could take the audience on a journey - and I'm still in that same place."
Who: Jon Anderson, former Yes singer performs his An Intimate Evening With Jon Anderson show.
Where and when: April 17, Sky City Theatre, Auckland; April 20, St James Theatre, Wellington
Listen to: With Yes, Fragile (1971), Close to the Edge (1972). Solo, Olias of Sunhillow (1976)
- TimeOut