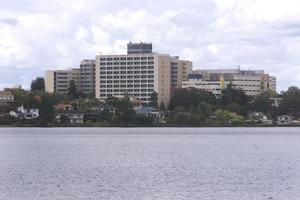 Waikato District Health Board has been crippled by a computer worm which has seen every PC in the organisation shut down.
While the main hospital in Hamilton and smaller outlying hospitals were continuing to function, spokeswoman Mary-Ann Gill said it was important people only came for treatment if it was absolutely necessary.
Emergency care was still available but those arriving for routine appointments were being affected, as were GPs who often made referrals to hospitals via email.
"We are asking GPs to only make urgent referrals," she said.
"We need to keep as many people out of hospitals as we can."
Ms Gill said DHB technicians were working on a computer upgrade overnight when things started to go awry.
"About 2am they noticed there were some issues with the computers. By 4am they realised a computer virus had got into our whole system.
"We brought in Microsoft and have been working with them through the night."
Conficka has been identified as the culprit.
"It reconstitutes itself as fast as you can fix it. It's particularly virulent," Ms Gill said.
To deal with the situation, all 3000 PCs at the DHB had to be switched off this morning.
"As you can imagine, that was a big task."
The Waikato DHB covers a tenth of the country across a number of outlying sites.
Staff were relying on fax and phone to communicate.
A small pamphlet explaining the problem had been printed off-site "and people are running around distributing them" at the hospitals, Ms Gill said.
"A huge number" of people were working on the problem and they were hopeful of the system being operational again by the end of the day.
Ms Gill said the shutdown would probably result in an "even more robust password system" being introduced.
"We've got a pretty good one as it is, but it may actually have to be even more robust."
Conficka is what is known as a "computer worm" which targets Microsoft Windows operating system.
It uses flaws in Windows software to co-opt machines and link them to a virtual computer that can be commanded remotely by its authors.
It has millions of computers now under it control in more than 200 countries, according to the New York Times.
- NZPA