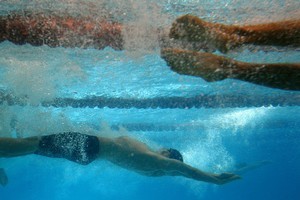 Swimming New Zealand's (SNZ) high performance environment was today described by a damning Sport and Recreation New Zealand (Sparc) review as negative and with a culture of distrust and lack of confidence in its leadership.
The role of SNZ's high performance manager Jan Cameron has come under particular fire, with the former Australian Olympic silver medallist last night rejecting the report's findings as unfair and inaccurate.
Cameron has held the position of general manager of performance and pathways for the three years, and one of the report's findings recommends a review of that position.
Sparc initiated an independent review of the programme after less than impressive results from New Zealand swimmers at last year's world championships and New Delhi Commonwealth Games.
Carried out by former New Zealand Sports Foundation chief executive Chris Ineson, it aimed to identify barriers to swimmers and coaches delivering medal results at next year's London Olympics.
The review was underpinned by a confidential consultation process representing a cross-section of SNZ's high performance community.
Ineson's report found the high performance structure was not sustainable, while feedback regarding the high performance environment was particularly damning.
"Many described it as dysfunctional and needs to be vastly improved," the review found.
"Ninety-one per cent of those interviewed attributed the poor culture at the high performance centre as a significant barrier to success in London."
The review's own observations were that the high performance environment was negative, with a culture of distrust and lack of confidence in its leadership.
It was not conducive to the swimmers' training and preparation needs for London, or any other pinnacle international event.
Leadership of SNZ and the high performance programme also came under heavy fire.
"The thrust of the criticism was that the dysfunctional environment at the high performance centre had been festering for some time, it was 'public knowledge' and little or nothing had been done to rectify it.
"The feedback about structure, environment and leadership was so strong and so consistent across the broad spectrum of the high performance swimming community that it cannot continue to be ignored," the review said.
It made five recommendations, with top priority given to establishing an advisory committee to provide the board with governance oversight of the high performance programme.
A review of SNZ's high performance structure at the Millennium Institute of Sport and Health in Auckland was also on the list, as was appointing a head coach-Olympic campaign director until London.
The remaining two recommendations concerned ensuring the best possible high performance coaches were in place, and implementing the report's recommendations immediately, in an open and decisive manner.
A statement from SNZ's board said it fully accepted the Sparc report's recommendations, and would move urgently to deliver, given the London Olympics were just 13 months away.
SNZ has established a committee, headed by board deputy chairman Ross Butler, to review the structure and environment of its high performance programme.
Committee members will include board member and former Olympian Alison Fitch and Sparc advisor to the board Nelson Cull.
Two further independent members will be appointed after consultation with Sparc.
Final terms of reference have yet to be determined, but will include the review of the structure and roles within the high performance area; appoint a person to lead the swimmers' campaign to achieve success in London; and provision of additional resource to complement and support the Olympic campaign. SNZ chairman Murray Coulter said he welcomed the review.
"We always said we will work closely with Sparc to improve what we do. We fully accept the report's recommendations and take the findings on the chin."
Coulter said a number of the review findings had already been addressed by SNZ as part of its grassroots organisation review, Project Vanguard, and by new initiatives already being developed in the high performance programme.
He said SNZ would not pre-empt the timing or outcome of the review of future staffing and roles.
"We will move with expedience. The priority is our London campaign and the support for our swimmers who are about to compete in their final world championships before London.
"We want to give our swimmers and coaches the best possible support and leave no stone unturned for them to be successful."
- NZPA