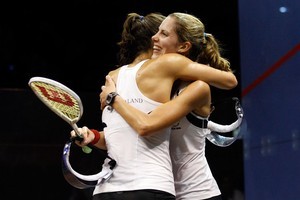 England extracted a dose of revenge as they beat New Zealand 2-1 tonight to reach the final of the women's team championship in Palmerston North.
The fifth-seeded New Zealanders came painfully close to toppling the top seeds after veteran team No 3 Shelley Kitchen opened the tie with a gutsy win over Tania Bailey.
However, No 1 Jaclyn Hawkes went down in four sets to Jenny Duncalf and No 2 Joelle King in a tense five-setter against Laura Massaro, much to the disappointment of a parochial home crowd.
It was a hugely satisfying result for Duncalf and Massaro, who were beaten in the final of the women's doubles final at last month's Commonwealth Games by Hawkes and King.
With the tie locked at 1-1 Games golden girl King looked to be steering New Zealand to a famous win when she comfortably won the first two sets.
However, world No 9 Massaro regrouped to emerge victorious 5-11 7-11 11-7 11-2 11-7 over a player ranked eight spots below her.
Earlier, 31-year-old Kitchen turned back the clock with an 11-8 9-11 15-13 11-7 defeat of Bailey, a match dominated by numerous let and stroke calls which stretched proceedings well beyond an hour.
In her first tournament for nearly a year -- and her last before she retires internationally -- Kitchen held her nerve in the manner that saw her climb to sixth in the world two years ago before taking a break to have her first child.
World No 12 Hawkes began smartly but was worn down by world No 2 Duncalf 7-11 11-9 11-6 11-9 in a match marred by a collision at the start of the fourth set which saw Hawkes fall awkwardly and take a break to tend to an ankle injury.
New Zealand will play off for third tomorrow, continuing a frustrating record at the biennial tournament.
They have been runners up twice and third nine times since it was first held in 1979.
England's oppenents in the final will be either second seeds Australia or the fourth-seeded Malaysia, who were to contest the second semifinal later tonight.
- NZPA