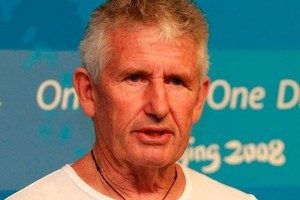 Kiwi Commonwealth Games and swimming officials dived for cover yesterday when asked if they had hushed up Daniel Bell's latest alcohol incident.
Swimming New Zealand chief executive Mike Byrne, the originator of the "couple of beers" statement from Delhi, said: "Our feeling is that the issue is over, done and dusted.
"The matter has been discussed internally and the appropriate action taken - and we are moving forward."
Asked whether he felt the matter should be reopened because of the revelations, Byrne said: "Not at all. It is SNZ's prerogative to determine what the disciplinary action is and to take it - and we have done that."
Games chef de mission Dave Currie, in India with the Black Caps, denied knowing Bell was drunk.
"I have not been involved in the decision. Swimming New Zealand made a call and I support it.
"In their mind quantity [of alcohol] was not an issue because protocol had simply been broken. That at the time was the issue.
"I'm comfortable that they took decisive action."