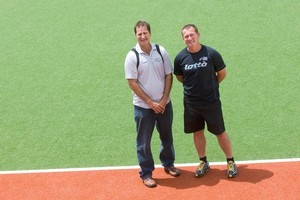 Black Sticks coach Shane McLeod rated his team's bronze medal-winning effort at the Commonwealth Games as probably eight out of 10.
Mark Hager, McLeod's counterpart with the New Zealand women's team, was of the same mind.
"We have seen a marked improvement from the World Cup to the Champions Trophy and now the Commonwealth Games," said McLeod. "Probably the most pleasing aspect was the increase in the number of circle penetrations which showed we have picked up on attack."
The most disturbing aspect was the mere 20-25 per cent success from penalty corners - well down on the accepted 33 per cent-plus that is seen as the minimum.
McLeod said the absence of key players Ryan Archibald and, in particular, defensive kingpin Blair Hopping had not helped.
But looking ahead, the news is better with Archibald and Hopping both confirming their availability for the 2012 London Olympics campaign.
McLeod is preparing to name a 24-strong national squad which will include the 16 who were in New Delhi, plus eight additional players including Archibald and Hopping and at least a second goalkeeper.
"The pinnacle events next year will be the Champions Challenge, which is likely to be played in South Africa, and before that the Oceania Cup which will double as an Olympic qualifier.
"Oceania is unlikely to get a second direct entry to the Olympics so the Oceania Cup will be the only chance to qualify directly."
McLeod continues to insist any player with Olympic aspirations will have to play next year's National Hockey League, after which the teams for the Oceania Cup and Champions Challenge will be named.
McLeod said their best performances in Delhi included the win over South Africa - in particular the first half in which they took a 4-1 lead - and the two games against England, including the third and fourth play-off which they won on penalty strokes.
"I also felt we made progress against Australia. In the past they have bullied us and I felt there was certainly a big improvement."
Hager also rated his team's performance against Australia - in the gold medal match - as their best.
"It was a step up from what we had done earlier in the year," said Hager.
Unlike past New Zealand women's teams who had stand-out individuals - including Suzie Muirhead, Anna Lawrence, Mandy Smith and Di Weavers - McLeod feels this team has "quite a few" capable of assuming the star mantle.
"This year we have beaten Argentina once and China three times. Those results are satisfying and show the progress we are making. We haven't beaten Germany or Australia outright but we are getting closer. I still rate Holland and Argentina as the standouts. You can then throw a blanket over the next eight."
Oceania is assured of two spots for women's teams in London and Hager says he is also planning to play the Champions Challenge next year.