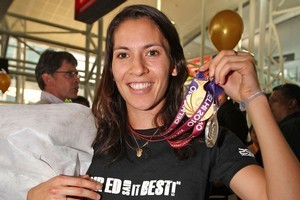 So she's not just former All Black Regan King's little sister then. In the space of an hour, she became Joelle King, Commonwealth Games squash gold and silver medallist, and a star in her own right.
The 22-year-old has forever wanted to hit that tag away - Regan's sister - with the force of one of her forehands during that finals win with doubles partner Jaclyn Hawkes.
She's finally done it and 200 emails arrived in her inbox as proof. That is the sort of reaction you receive when you win gold and are chosen as your country's flagbearer for a Games closing ceremony.
"I finally got a story to myself," says the world No 21, referring to her brother, the former Waikato and one-test All Black centre who is currently playing professional rugby in the Llanelli midfield.
"This is my time."
King's gold, followed by silver with Martin Knight after just a 15 minute break, was the best performance in terms of medal haul by a Kiwi in Delhi.
Cyclist Jesse Sergent claimed two silvers, as did middle-distance runner Nikki Hamblin, but their feats failed to match those of the Cambridge athlete of Ngati Porou descent.
King admits doubles squash doesn't exactly revel in the headlines between Commonwealth Games but she says the strength of their efforts were underlined by their seedings.
"We were seeded 11th in the mixed doubles and fifth in the women's so it was a mind-blowing result."
Immediately after winning their gold, King and Hawkes downed racquets, removed their safety visors and embraced mid-court.
The two only came together when Shelley Kitchen pulled out. Hawkes says it helped that they get on well off court.
"We're such good friends. We often room together, travel together and have a great understanding of each other's game."
Hawkes joked she kept her partner fresh for the mixed doubles final by hitting up to 80 per cent of the shots.
The duo's efforts have mirrored the success of past campaigns for New Zealand since squash was introduced to the Games in 1998 at Kuala Lumpur.
New Zealanders have won two medals in women's doubles. Carol Owens and Leilani Rorani took gold at Manchester, then Kitchen and Tamsyn Leevey achieved silver in Melbourne.
King says she has sought the advice of Rorani and Owens in the past as she seeks to improve her world ranking of 21. The last couple of weeks, she hasn't talked much to former world No 1 Rorani, who has just had her fourth child.
"Both Leilani and Carol have been good when I've contacted them about the struggle to get sponsorship without a high profile. But I'll get some funding out of this and hopefully more support from Sparc."
She has also contacted New Zealand's greatest women's player Dame Susan Devoy for a few tips.
"She's a tough nut who doesn't give too much away. She doesn't say anything she doesn't mean, so when you get a compliment, you know you've done all right."
Sparc fronted with $300,000 of contestable funding for squash in the 2010 financial year.
It is understood the team met medal expectations.
King now reverts to singles where she has been a full-time player in the past couple of years. After a week, she goes to tournaments in Hong Kong and Qatar.
She accepts doubles is not the ticket to squash stardom.
"Hopefully [the gold] raises my profile. I'm not sure about doubles. Hopefully interest will grow, we'll just have to wait and see.
"Singles is always going to be the biggest drawcard."
One area where she won't have to raise her profile is in Perth where her parents now live.
"Mum said they didn't have the coverage there that she would have liked of my match but she told me to wave like mad at the closing ceremony."