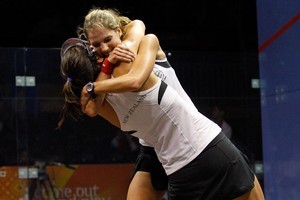 The New Zealand squash team of Jaclyn Hawkes and Joelle King boosted the country's Commonwealth Games gold tally to four last night with victory in the women's doubles.
In a gruelling battle of wits and endurance the Kiwis held on 11-9, 11-10 in 57 minutes over the England pair of Jenny Duncalf and Laura Massaro. They immediately removed their safety visors and embraced on court.
It is New Zealand's second gold medal in the women's doubles since the sport was introduced at Kuala Lumpur in 1998. Carol Owens and Leilani Rorani won at Manchester in 2002.
Shortly afterwards King was joined on court by Martin Knight in the mixed doubles final. They added to New Zealand's prolific silver haul at these Games, losing 8-11, 11-7, 11-5 to Australian duo Kasey Brown and Cameron Pilley.
However, the night belonged to the women.
"I just looked at Joelle when Laura hit that last ball into the tin. We're just so excited," Hawkes said.
Last night the Englishwomen had a 10-6 lead in the second game but their composure came unstuck with some errors and expressions of dissatisfaction to the umpire when lets did not go their way.
The third let at 10-10 in the second game even caused Duncalf to step outside the court to discuss matters.
Hawkes said the result came down to determination.
"We just said to each other we're going to make it so hard for them to win this game. It came down to patience really. I wanted to win the points as badly as they did."
The rallies were long and arduous throughout with Hawkes on the left and King on the right. Hawkes said that was the best way to divvy it up.
"Joelle is so dominant on the forehand and I could be steady on the backhand. We could really muck other people up that way."
Hawkes also joked she kept her partner fresh for the mixed doubles final by hitting up to 80 per cent of the shots. "What a good teammate I am," she said.
The duo came together only when Shelley Kitchen pulled out of the Games but the fact they get on well off the court helped.
"We're such good friends. We're rooming together, we travel together and we have a great understanding of each other's game. This is the highlight of my career to date.
"I didn't know what we were going to do initially [when Kitchen pulled out], but once the decision was made we just got on with it and decided we wanted to come back with gold. That meant hard training for over three months in New Zealand."
Hawkes was left lamenting more doubles squash was not played on the world stage. The Commonwealth tournament is one of the few avenues for its progression.
"I've only played three or four tournaments ever," she said. "I wish other countries would get into it more but I'm not sure it is where the money is."