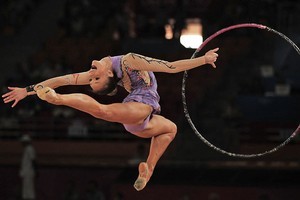 New Zealand finished fourth among five nations tonight in the rhythmic gymnastics teams competition at the Commonwealth Games in New Delhi.
The Christchurch trio of Keziah Oliver, Mereana Rademakers and Kimberley Robson totalled 207.725 points.
Australia won gold with 235.775. ahead of Canada with 224.325 and England with 220.475.
India trailed the field with 174.850.
The day's competition also doubled as qualifying for the four separate apparatus of rope, hoop, ball and ribbon, and for the individual all-round event.
Of the New Zealanders, Rademakers had the best all-round score of 82.825, with Oliver and Robson close behind with 81.975 and 81.375 respectively.
Rademakers and Oliver's totals qualified them 12th and 13th for the 16-strong final tomorrow.
Robson missed out because each country is allow only two competitors.
None of the New Zealanders got into the eight-strong fields for the finals of the individual apparatus on Thursday.
However, Oliver's score of 21.775 for the rope made her one of two reserves.
- NZPA