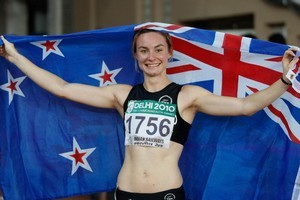 It was like watching Kiwi come home to win the 1983 Melbourne Cup."
That was coach Chris Pilone's perfect summary of his pupil Nikki Hamblin when she came home in the final straight to win her second silver medal of the Delhi Commonwealth Games.
The only slight difference was that Kiwi won, but there was little to quibble about Hamblin's effort given she had been ill with "Delhi belly" the day before.
Pilone said Hamblin was nothing like a thoroughbred to watch.
"When you look at her running she actually runs like a bit of a carthorse. It's only when you start timing her reps you think 'ooh, this is not bad'."
Carthorse or thoroughbred, the 22-year-old has etched herself a place among the great names of New Zealand athletics by securing the coveted middle-distance double.
She finished 0.04 seconds behind Kenyan Olympic champion Nancy Lan'gat. She was behind Lan'gat in the 1500m as well.
Like Kiwi, Hamblin had to battle from way back in the finishing straight to finish in 2m 00.05s, less than half a second outside her personal best, set in Croatia last month.
Hamblin is just the second New Zealand woman, along with Lorraine Moller in Brisbane 1982, to win two individual medals on the Commonwealth Games track, and only the fifth athlete. Cecil Matthews (1930), Peter Snell (1962) and John Walker (1974) have also done it. She only gained the right to run in the black singlet last year, gaining residency after growing up in Britain.
"Obviously I was a bit stuffed after the 1500m but I had to refocus and tell myself I had more races to do," Hamblin said.
"When I get back to New Zealand maybe I'll fully appreciate two silver medals."
Hamblin said she was able to stay calm, even when it got bunched with 250 metres to go on the back straight.
"I thought I'd just wait. The mistake I made yesterday was to go into the [second to last] bend and run wide and you don't do that as a distance runner."
"Today was about being a bit more patient. We got to 150m to go and I thought, 'right, I'm going now'."
Coach Pilone, with whom Hamblin appears to have a love-hate relationship, said they had got over their recent tiff when he opened up about their fractious dealings following her 1500m silver.
"We had a relaxed day at the village beforehand where a group of us sat around playing 500."
Hamblin was in a buoyant mood post-race but still lingered in the background during the Pilone interview. She half-joked she was "just checking what he is saying".
Her coach refused to hold back.
"We didn't expect too much. She was sick yesterday and had a bit of a meltdown as well. We didn't want to put too much pressure on her.
"She came and spoke to me the night before the race. I'll never give any hints of what goes on between athlete and coach but I was proud of her. She got herself back mentally.
"She'll clonk me because I have said she is difficult to coach, but it is important not to be judgmental of her."
Hamblin later admitted Pilone was always there for her.
"I was so grumpy at him yesterday. So he kept his distance. But he's there if I need him."
Pilone had worked with Hamblin for four years but only started coaching her full-time when her previous coach Nick Nicholson died suddenly last year.