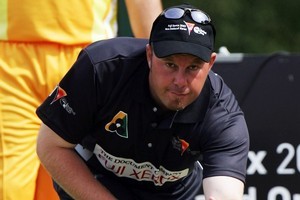 New Zealand bowler Ali Forsyth today maintained his 100 percent record in the Commonwealth Games men's singles with two further wins, both in straight sets.
He followed up a 9-4 9-6 victory over Niue's Leslie Lagatule by beating Ampuan Ahad Ampuan Kassim (correct) of Brunei 13-2 11-6.
Forsyth, who is based in New South Wales, has won all five of his matches and is the only unbeaten player in either section.
Among his scalps has been 2006 Melbourne silver medallist Rob Weale of Wales.
Forsyth completes his round-robin programme with three matches tomorrow, including a tricky first-up assignment, a top-of-the-table clash against Englishman Sam Tolchard.
Team coach Dave Edwards said Forsyth had been building nicely, with his draw game becoming more solid with each outing.
"He's always been dangerous with his drives and his runs," he said.
"When his draw game comes on like it's slowly getting, he will always be a threat."
In the women's singles, Nelson's Val Smith had two wins and a loss to be ninth in her 11-strong second round pool with three matches to play.
She beat Botswana's Lebogang Mascarenhas 12-4 12-2 to arrest a run of three defeats, but then lost to Carmen Anderson of Guernsey 8-4 8-6, before finishing the day with a 1-10 9-6 5-0 victory over Canadian Josephine Lee.
- NZPA