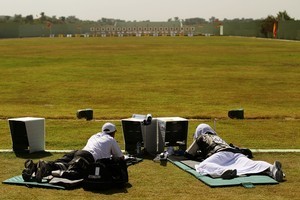 Another solid day at the Kadarpur range at the Commonwealth Games has New Zealand fullbore shooters Mike Collings and John Snowden in medal contention.
With two days of five left to shoot, the New Zealand pair have executed their plan to stay in touch with the leaders, banking on making a move on the difficult final day.
Tomorrow's shoot over 900 yards and Wednesday 1000 yard showdown are the most difficult of the competition, given the effect heat haze, dust and wind can have at that distance.
"As long as you're in touch you're giving yourself a chance, which is what we've done," manager Tony Waymouth said.
After shoots over 600 yards today, the pair remained in fourth place on 297 from a possible 300.
Canadians Des Vamplew and Jim Paton lead on 299, from Scots Ian Shaw and Angus McLeod - also 299 but with fewer central bullseyes - and Wales, 297 with more centrals than New Zealand.
In the individual Collings is seventh on 253, Snowden 11th on 252.
Gareth Morris of Wales leads on 255 - he is yet to miss a shot - from James Corbett of Australia (254), and Robert Oxford of Wales, also 254.
New Zealand finished today seventh in the women's 50m rifle prone pairs.
Sally Johnston of Lower Hutt and Aucklander Juliet Etherington shot 1155 from a possible 1200.
Scotland won the gold medal with 1169, on countback from England.
India took the bronze with 1168.