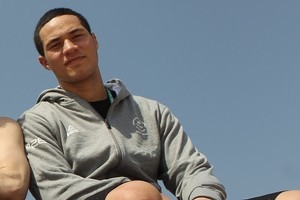 The closest fight of the Commonwealth Games boxing competition saw teenage super heavyweight Joseph Parker eliminated today (NZT), ending New Zealand's involvement at Delhi.
A rising star out of the thin amateur ranks in New Zealand, Parker lost his quarterfinal by a judges' majority decision after his three-round bout against Tariq Abdul Haq of Trinidad and Tobago finished with the score locked at 7-7.
After an interminable wait, three of the five judges ruled in favour of Abdul Haq while the other two thought Parker had done enough to win the over-91kg contest.
The Auckland 18-year-old landed a scoring blow on the final bell to tie the score and believed he had done enough to win the judges' favour.
"Probably he's a lucky man today but you've got to accept it, you can't do anything about it," Parker said.
"I'm pretty disappointed, I wanted to get a medal for New Zealand."
The taller Parker planned to use his superior hand speed to unsettle Abdul Haq but he simply didn't throw enough punches to keep his more muscular opponent at bay.
Abdul Haq often made inroads with heavy overhand swings which had Parker backpedalling to the ropes. There, the fighters regularly locked up, draining the New Zealander of his strength.
Up 6-4 after two rounds, Parker admitted he let the Caribbean fighter back in.
"Maybe that was a turning point, just laying back, I should have done a bit more work. I should have pressured him, just to keep him away. I sort of got tied up and brawled with him," he said.
"But I've got to hold my head up high and look at it as a positive to help me with my next fights to come.
"It's a great experience for me, straight out of school. Experience is big for me, competitions like this."
Parker, who is targeting the 2012 London Olympics, has natural size and speed, along with a lethal left jab.
He won a silver medal at the Commonwealth championships in Delhi in January, a bronze at the world youth championships in Azerbaijan and a silver at the Youth Olympics in Singapore.
All six New Zealand boxers have now been eliminated from the Games after light heavyweight Reece Papuni was beaten by a comfortable points margin overnight.
Cantabrian Papuni went down 7-2 against Northern Ireland's Thomas McCarthy in a quarterfinal bout in the 81kg division.
Papuni struggled to find openings against the taller McCarthy, who picked his moments to land his punches in building up a 5-0 lead after two rounds.
In a bid to close the gap, Papuni went on the attack from the start of round three and did have the consolation of getting on the board.
- NZPA