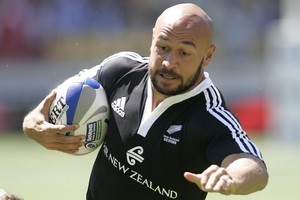 New Zealand's rugby sevens team will be motivated by the pressure of history at the Commonwealth Games tournament, skipper DJ Forbes says.
Play in the tournament begins in New Delhi today.
New Zealand have won all three titles up for grabs since sevens became part of the Games programme in Kuala Lumpur in 1998 and they haven't lost a game in the process.
"It's not something that's weighing us down," Forbes said. "When I first made the team, I knew coming into the environment that they had such a proud legacy.
"It's just a matter of using that as motivation to dig deep, give everything and leave it all on the field."
New Zealand, who have four All Blacks in their 12-strong squad in Hosea Gear, Zac Guildford, Ben Smith and Liam Messam, will begin their campaign against Canada.
The Canadians scored a notable victory at the Hong Kong sevens in March, when they beat World Cup holders Wales.
Also in the pool are Caribbean champions Guyana and Scotland.
Before their arrival in New Delhi, coach Gordon Tietjens and the players went into camp in Dubai, where temperatures were in the high 30s and humidity was high.
"Coming to India, it feels a lot cooler, so it has worked in our favour," Forbes said.
Unlike some events at the Games, the sevens tournament at Delhi University features a strong field.
Five of the top-six ranked teams are in the 16-strong draw. The exception is Fiji, suspended from the Commonwealth.
Forbes predicts the race for medals will be wide open.
"With sevens these days, you've seen on the world circuit that anyone can win," he said.
"Probably the main danger for the so-called bigger nations is thinking too far ahead and planning for day two."
New Delhi is Forbes' first Commonwealth Games and he said there was definitely a different feel from a normal sevens event.
"It's not purely about rugby - there are cyclists, gymnasts, everybody," he said.
"We're competing as a nation, not only as a rugby team, so if things get tough on the field, we can use the inspiration of the other athletes who have won medals."
Forbes admitted he got a bit of a ribbing from his teammates after an Indian newspaper rated him as one of 10 "glamour girls and boys" to watch out for at the Games.
He was "pretty surprised and a little flattered" at his inclusion, joking that the reason could have been his beard - "I might have blended in a little bit better here".
"The management put a little pin-up on all the boys' doors and they were taking the mickey out of me.
"I said to them that I would take the title and hold on to it for four years and someone else can have a crack."
The reaction from wife Lisa was a "cheeky text" telling him he had to make sure he came home.
- NZPA